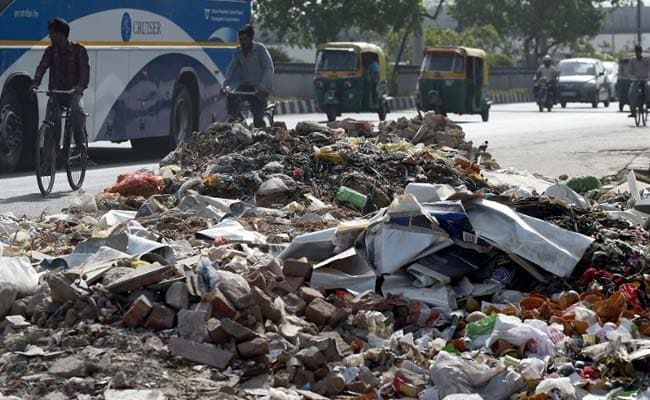 New Delhi:
Voicing concern over dumping of garbage on the streets due to strike by sanitation workers of municipal corporations, National Green Tribunal today asked the civic bodies to remove the solid waste within two days and directed the Delhi government to extend its support to them.
"We direct that all the municipal corporations of Delhi to remove the garbage dumped in their jurisdiction areas within two days. We also direct the government of NCT Delhi to extend all cooperation to the officials of civic bodies concerned," a bench headed by NGT Chairperson Swatanter Kumar said.
The panel also issued notice to all the three municipal corporations--East Delhi Municipal Corporation (EDMC), North Delhi Municipal Corporation (NDMC) and South Delhi Municipal Corporation (SDMC)-- and the Delhi government and posted the matter for further hearing on Friday.
The green panel's order came on a plea mentioned before it by advocate Sanjeev Ralli who said that due to strike of sanitation staff of civic bodies, garbage is being dumped on the streets of Delhi and also before houses which is becoming a grave cause of environmental pollution.
The bench also reopened a disposed of case filed by one Saurabh Sharma on a similar issue of piling of garbage within the limit of EDMC, earlier this year noting that around 8000 MT waste is being produced in the national capital on a daily basis which may have adverse effect on environment.
Advocate Balendu Shekher, appearing for municipal corporations, though conceded that garbage is being dumped on the streets in violation of earlier directions of tribunal, said that it is the outcome of non-allocation of funds and the differences between civic bodies and Delhi government.
He said that Delhi High Court is seized of a similar matter and certain directions have also been issued to the government and civic bodies in this regard.
The bench then asked the counsel to check the status of the plea pending before the High Court.
Demanding regular payment of salaries, arrears, regularisation of their posts and cashless health card, sanitation workers of civic bodies went on strike from October 23.