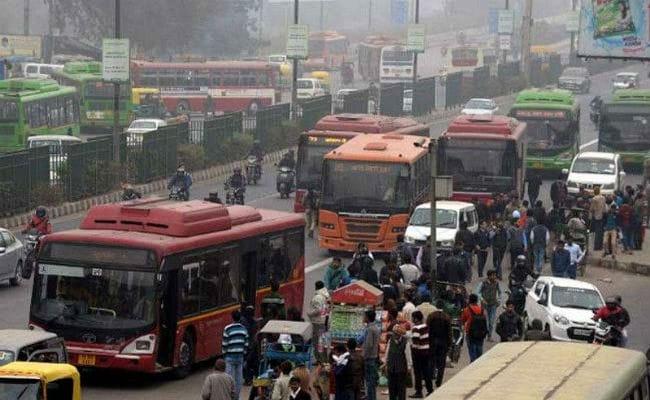 New Delhi:
Delhi needs more buses powered by the clean fuel CNG as the national capital and the surrounding region are swallowed by thick smog that developed due to a host of factors, including automobile emissions, the Delhi High Court told the Kejriwal government on Tuesday.
The court reminded the Delhi government that the Supreme Court in 1998 had told the national capital to increase the number of public buses from 5,000 to 10,000, but this target has not been met even after 19 years have passed.
A bench of Acting Chief Justice Gita Mittal and Justice C Hari Shankar turned down a plea by a man with special needs who sought to stop the Delhi government from deploying 2,000 standard-floor buses at a cost of Rs 300 crore. The petitioner, Nipun Malhotra, has said standard-floor buses, as against low-floor ones, cannot be accessed easily by wheelchairs.
"All the authorities have opined that major cause to air pollution was vehicles. So the Delhi government should make an effort on a war footing to bring in more buses," the Delhi High Court said.
"Entire city was unable to breathe. Look at your concern in the area of education and health facility. We want the same for public transport," the court said.
The court said stubble-burning in Punjab and Haryana alone cannot be blamed for bad air quality in the national capital if the Delhi government was not willing to take steps to improve public transport.
Delhi Chief Minister Arvind Kejriwal has, however, blamed the burning of crop stubble by farmers in neighbouring Punjab and Haryana as the major cause of the spiking pollution in Delhi. His request to meet with Punjab Chief Minister Amarinder Singh for finding a way out of the smog situation was declined by the latter.
In Chandigarh, Mr Singh said he "failed to understand why the Delhi Chief Minister is trying to force my hand, knowing well that any such discussion will be meaningless and futile."
Mr Kejriwal and Delhi Deputy Chief Minister Manish Sisodia on Tuesday also met with Chief Secretary MM Kutty and senior officers of all departments, including transport, and briefed them that the buses should be deployed as soon as possible, an official familiar with the matter said.
"In the meeting, the chief minister expressed deep displeasure and pulled up officers over delay in procurement of buses despite the fact the court had asked the city administration to maintain a fleet of at least 10,000 buses many years ago to boost public transport," said the officer who asked not to be named.
The state-run Delhi Transport Corporation run 5,594 buses.
Delhi Transport Minister Kailash Gahlot has written to Lieutenant Governor Anil Baijal, asking him to tell the Delhi Development Authority to give 135 acres of land to the Kejriwal government for parking the expanded fleet.
(With inputs from PTI)