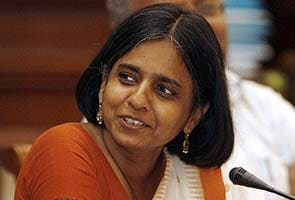 New Delhi:
Environmentalist Sunita Narain has suffered severe injuries and multiple fractures after being hit by a car at a key south Delhi intersection, while riding a bicycle on Sunday.
Ms Narain, 52, the director of Centre for Science and Environment (CSE), was biking towards the Lodhi Garden at around 6 am when the car hit her and fled, said the police.
A resident of Green Park, she often biked to the park with her trainer, but this time, she was alone.
She was conscious when passers-by found her and took her to the AIIMS hospital, right next to the accident site.
In more than eight hours of surgery, doctors have installed titanium plates to fix her broken arms. Doctors said she had a fractured nose and may need plastic surgery.
"Now her condition is stated to be out of danger but she is still under treatment," said a police official.
The environmentalist is yet to give her statement to the police, who say that no eyewitness has come forward till now.
Ms Narain, a 2005 Padma Shri awardee, has also received the World Water Prize for work on rainwater harvesting and for its policy influence in building paradigms for community based water management. She is also the director of the Society for Environmental Communications and publisher of the fortnightly magazine, Down To Earth.