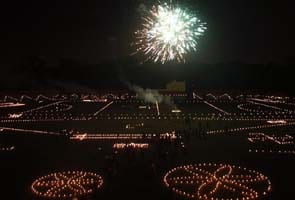 New Delhi:
Delhi could be staring at another spell of smog with Diwali fire-crackers expected to significantly increase air pollution.
The Capital remained under the grip of smog for almost two weeks till November 7, affecting people with breathing disorders and prompting the Supreme Court-appointed Environment Pollution Control Authority (EPCA) to direct the governments of Delhi, Haryana, Uttar Pradesh and Punjab to take urgent steps to control pollution in the Capital.
Scientists at the Indian Meteorological Department have said Delhi is expected to witness even more pollution after Diwali because of a western disturbance coinciding with the smoke from fire-crackers.
Through advertisements in leading dailies, the Delhi government has called for a cracker-free Diwali - an appeal that may go unheard.
"Diwali is all about lights and sounds. Can you imagine a silent Diwali? Please don't dampen the festive spirit. These are appeals that no one will follow," said 17-year-old Manish Gosain, a resident of central Delhi, busy with Diwali preparations.
"Why can't the government curb pollution during rest of the year? They won't do anything on their part but expect us to stay away from crackers," said Neha Jain, a 19-year-old student of Indraprastha University.
The Central Pollution Control Board (CPCB) said air pollution levels in Delhi fell during Diwali last year compared to 2010, but noise levels rose marginally.
This year, it could be anybody's guess.
Smog is not uncommon for Delhi in the winters, but this year it hit sooner and was more severe. Environmentalists blamed it on rising emission levels from the ever growing stream of vehicles in Delhi.
After a campaign by activists, the Delhi government had switched all public transport from petrol and diesel to cleaner CNG in 2001, remarkably improving the city's air quality, but the advantage appears to have been frittered away within a decade.
Last week, Delhi, Uttar Pradesh, Punjab and Haryana authorities met EPCA officials and agreed to work together to reduce pollution levels in the Capital. It was decided that polluting vehicles entering the Capital from the neighbouring states would be monitored and the ban on burning of farm waste would be strictly enforced.
(With IANS inputs)