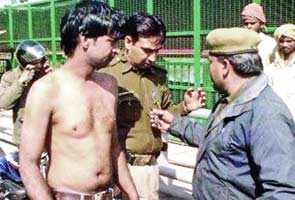 New Delhi:
Sharing an autorickshaw with someone in order to save a few bucks may seem a good idea, but it has its dangers. And if you think that it's safe to be stingy during the day, Jaiprakash and Sangeeta would disagree with you.
The couple were attacked by three miscreants, who were travelling with them, in broad daylight on Sunday. While two of the hoodlums managed to escape after snatching Sangeeta's gold chain, the third was caught by Jaiprakash and the auto driver. The cops arrested him, but only after he had received a thrashing from the mob that had gathered.
Jaiprakash and Sangeeta, residents of Agra had come to the Capital to attend a wedding ceremony in Nand Nagri area of east Delhi. The couple got down from the train at New Delhi Railway Station on Sunday morning. Since their destination was some distance away, Jaiprakash decided to get an auto.
"As I hailed a TSR, three guys came over and asked me where I was headed. After hearing my reply they said they were going in the same direction and if we shared the auto with them all of us would save some money. They convinced us and we decided to go along. As the auto reached the Yamuna Bridge my wife saw one of the guys swiping something from our luggage.
My wife shouted at him but suddenly all the three guys took out knives and threatened us of dire consequences. They tried to push me and my wife out of the auto but I managed to jump off holding one of the robbers. Meanwhile the auto stopped in the middle of the road. Two of the robbers snatched a gold chain from my wife and fled from the scene. But with the help of the auto driver I held on to the third miscreant," said Jaiprakash.
It was about 10.30am, so a lot of onlookers had gathered at the spot. Someone called the police. But before the cops could reach the scene the culprit had been beaten black and blue and had even lost his shirt.
The accused later revealed his name as Mohammad Toshi and said he is a resident of east Delhi. Cops claim that the two remaining culprits would be arrested very soon. But at the police station the victims refused to lodge a case. However, the cops arrested and booked the accused.
"The victims decided not to file charges since they are from out of town and didn't want to be dragged into a prolonged legal process. We have arrested the accused under section 110 of the IPC and we are investigating the case," confirmed Vivek Kishore, DCP Central District.