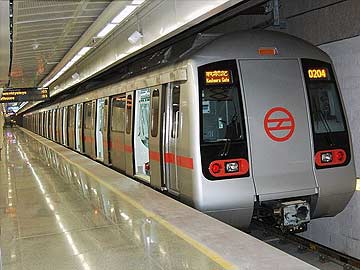 New Delhi:
Commuters travelling by Delhi Metro can recharge their smart cards at the entry gates itself through Automatic Fare Collection facility from today onwards.
This auto top-up of Metro smart cards facility will be available at 54 metro stations, which includes all stations on Line 5 (Inderlok-Mundka) and Line 6 (Central Secretariat - Badarpur), nine stations of Line 2 from Chattarpur to HUDA City Centre, five stations of Line 1 (Dilshad Garden, Shahdara, Welcome, Seelampur and Shastri Park), and eight stations of Line 3 and 4 (Karkarduma, Nirman Vihar, Lakshmi
Nagar, Pragati Maidan, Barakhamba Road, RK Ashram Marg, Jhandewalan and Rajendra Place).
The auto top facility through AFC gates was launched at the Barakhamba Road Metro station today by DMRC Managing Director Mangu Singh and other senior officials by topping up their smart cards at the AFC Entry Gates.
DMRC has partnered with ICICI Bank for this Auto Top facility.
For availing this facility, interested passengers will have to fill up a 'Standing Instructions Form' giving the mandate to deduct a particular amount from their credit/debit cards.
Initially, the form may be collected, filled up and submitted to the ICICI staff deployed at seven Metro stations, namely Sikanderpur, Huda City Centre, Badarpur, Nehru Place, Govindpuri, Lajpat Nagar and Kailash Colony from 10 am to 5 pm throughout the week.
Besides this, the interested passengers may leave their contact details at the Customer Care Centres of all 54 Metro stations and ICICI officials will directly contact them to process the Auto Top mechanism in their smart cards.
Once the application is approved by ICICI Bank, which is likely to take a week's time, the Smart Card will be registered for the Auto Top-Up facility and linked to the account after the successful registration of the mandate.
Passengers will be notified of the approval accordingly through e-mail/ SMS from the Bank.
Following the approval, the passengers will have to activate their smart cards for Auto Top-Up facility from 41 designated Metro stations which include all the stations of Line 5 (Inderlok - Mundka) and Line 6 (Central Secretariat - Badarpur) along with nine stations of Line 2 (Jahangirpuri to HUDA City Centre) from Chattarpur to HUDA City Centre.
Once the Smart Card gets registered for the Auto Top-Up facility, the Auto Top-up instruction shall be executed automatically at AFC Entry gates and Add Value of Rs 200 will be added to the card when the balance of the smart card goes below Rs 100.
This Rs 200 will be deducted from the passenger's Credit/Debit card by the bank and credited to DMRC's account. "DMRC hopes to extend this facility to all the stations of the network within the next six to eight months. All Metro stations of Phase 3 will also have this facility," DMRC Corporate Communication Executive Director, Anuj Dayal said.
In May, 2013 DMRC started the online recharge facility of smart cards. Presently, about 70 percent of the Metro commuters use smart cards.
Approximately, 25,000 smart cards are sold every day from the various stations of the network.
Currently, about one crore Metro smart cards are in circulation.