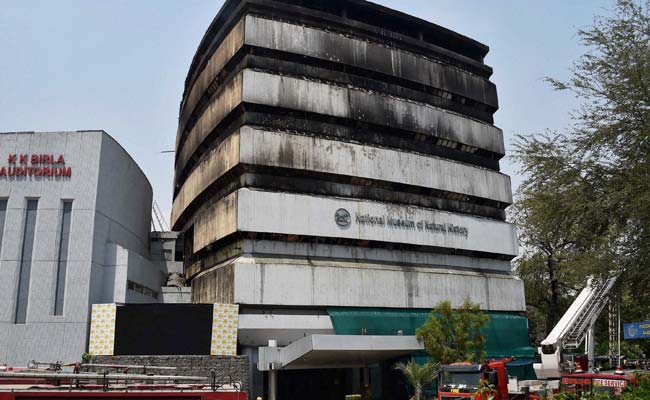 New Delhi:
Delhi Police have registered a case in connection with the massive fire that broke out yesterday at the National Museum of Natural History, housing thousands of rare specimens of flora and fauna.
A case under section 436 of IPC (mischief caused by fire or explosive substance with intent to destroy house) has been registered against unnamed persons in connection with the incident, a senior police official said.
The cause of the fire is yet to be ascertained. Delhi Police will conduct a forensic examination of the building and collect samples for forensic tests once the fire department declares the building safe for the exercise, the official said.
Police and Fire department officials have ruled out the possibility of sabotage on the basis of investigation conducted so far.
A short-circuit is unlikely to have caused the blaze as the incident took place in the wee hours when there is no chance of overload at the premises, the official said.
The nearly four-decade-old National Museum of Natural History, housing rare specimens including a 160-million-year old fossil bone of the Indian Sauropod Dinosaur, in the heart of the capital was ravaged in a massive blaze.
The fire started on the top floor of the six-storey FICCI building which housed the museum in Mandi House area of Central Delhi at around 1:45 AM and rapidly spread to all other floors except the ground floor. 35 fire tenders were deployed to contain the blaze.
Six firemen were injured in the operation. The fire was brought under control at around 6 AM.