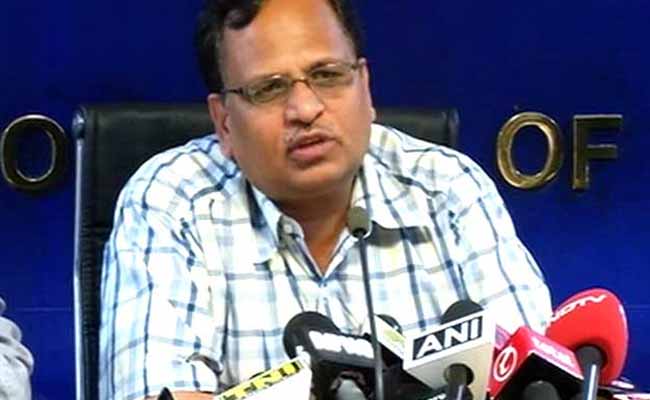 Highlights
Satyendar Jain holds the home, power and health portfolios in Delhi
The AAP leader has been accused of laundering Rs 4.6 crore in 2015-16
AAP has accused Centre of using CBI to malign its leaders
New Delhi:
Satyendar Jain, Delhi's Health Minister, is being investigated by the CBI for allegedly laundering Rs 4.6 crore in 2015-16. The CBI has registered a preliminary inquiry to probe his investments into what are believed to be shell companies, in which he was a director.
The allegation is that Mr Jain laundered money with help from Kolkata-based people to invest in shell companies. They allegedly bought shares worth Rs 10 for an inflated price of Rs 590 and used the profits to buy agricultural land in Delhi worth Rs 27.69 crore.
An Aam Aadmi Party spokesperson denied the allegations, saying that Mr Jain resigned as director of these companies before he became minister in 2013. They also said his investment never exceeded Rs 50 lakh.
This is the second major action initiated by the CBI against Mr Jain. In January, the country's premier investigating agency said it was studying why his daughter was given a government job in Mr Jain's department as an advisor for the Delhi government's famed
mohalla
or neighbourhood health clinics.
Mr Jain has said that in the three months that she worked with the Health Ministry, his daughter was not paid. She was removed in July last year after allegations of nepotism.
Delhi Chief Minister Arvind Kejriwal has accused the centre of using agencies like the CBI, which report to it, to malign his government. Top ministers in his government including his deputy, Manish Sisodia, have been named in CBI cases for alleged corruption.
Mr Kejriwal and his colleagues say an onslaught of cases and allegations of illicit deals are being released to weaken them ahead of this month's crucial election for Delhi's municipal corporation, which will be considered a referendum on the Chief Minister's popularity mid-way through his term.
Last week, a committee headed by former national auditor VK Shunglu said that more than a 100 decisions taken by Mr Kejriwal's government dodge basic guidelines and processes, including in the allocation of a bungalow as the headquarters for the ruling Aam Aadmi Party or AAP. The committee was set up by former Lieutenant Governor Najeeb Jung, whose term was marked by deep hostility with the state government. Another committee created by the centre recently ruled that Mr Kejriwal's administration violated Supreme Court rules to promote him and itself and ordered AAP to return 97 crore spent on that publicity material.