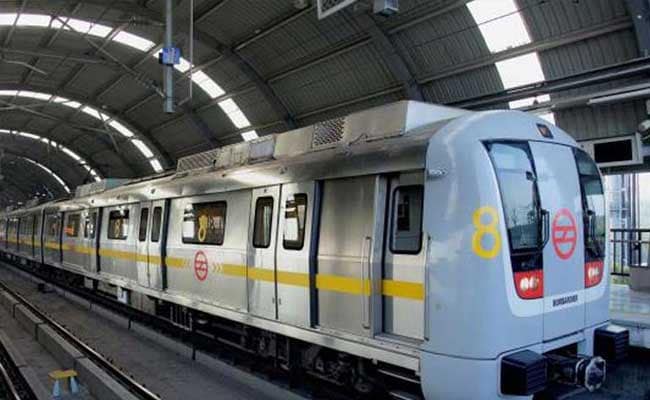 New Delhi:
The Delhi Metro has received nearly 32 per cent less than the number of daily passengers it had hoped to serve this year, according to a study by the Centre of Science and Environment.
The research and advocacy group attributed fare hike as the reason behind the sudden drop in ridership, approximately by 4.2 lakh passengers in 2018 as compared to the previous year.
While the average daily ridership projections made by Delhi Metro Rail Corporation (DMRC) in 2016 stood at around 40 lakh for this year, it has been only around 27 lakh -- 31.66 per cent less than the projections, the study said.
This, say CSE experts, "is symptomatic of the lack of overall policy for pricing of all transport services and a lack of strategy for funding of these systems and increasing ridership".
Individual metro and bus systems are struggling to recover costs and retain and improve ridership, in the absence of any strategy to address the issues, the organisation noted on the first day of the two-day CSE International Conclave Towards Clean and Low Carbon Mobility.
"In is ironical that when travel demand is exploding in cities the transport service providers are facing a crisis," it said in a statement.
Of nine metropolitan cities across the world which have operational metro systems and where the cost for a 10-km trip is less than half-a-US dollar, the Delhi Metro remains the second-most unaffordable system in terms of percentage of income spent for using it, it said.
As per CSE's calculations, an unskilled daily-wage labourer in Delhi has to spend an average of eight per cent of his or her income by travelling on a non-AC bus, 14 per cent for an AC bus and 22 per cent on the Delhi Metro.
"Figures are even higher in case of Bengaluru and Ahmedabad. If one counts the cost of making interchanges (at a conservative estimate of 25 per cent of the system cost) towards the full journey cost, the amount increases," the CSE said.
On metro rail services in small cities, subsidy costs for each passenger trip is enormous, particularly in the smaller metropolitan cities. "In Jaipur, the per passenger trip subsidy is Rs 50, Rs 78 in Lucknow and Rs 28 in Kochi," it said.
"Without a fiscal strategy and an overall plan for improving ridership, how can these cities hope to keep these systems sustainable?
"Given the price sensitivity of its commuters, India will have to devise locally-appropriate systems and create institutional and technological ecosystems for ensuring affordable fares and subsidy delivery," the experts noted.