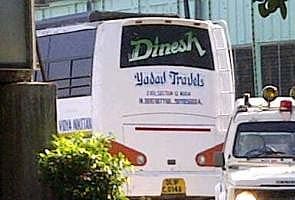 New Delhi:
Ram Singh, the driver who had easy access to the bus used to rape a woman in Delhi on Sunday night, had been involved in a major accident in 2009 in which his arms were seriously injured, said police sources today.
Ram Singh is among six men accused of rape and attempt to murder. The woman they assaulted repeatedly and with brute force is fighting for her life in a Delhi hospital.
On weekdays, Ram Singh, employed by a private bus operator named Yadav Travels in Noida, would drive children to and from a private school in Saket.
On Sunday night, he allowed his brother, Mukesh, to take the wheel. The bus, which had tinted windows, not allowed in Delhi, was off-duty; the brothers and four other men decided to go on "a joyride," according to Delhi Police Commissioner Neeraj Kumar.
They pulled over at a bus stop and picked up a carpenter. He paid Rs 10 for his ticket. On board, he was robbed of Rs 8,000 and then dropped near the IIT campus in South Delhi.
Half an hour later, the men on the bus noticed a young couple on the road. They pulled over. Assuming that this was one of the many privately-operated buses that are treated like public transport in Delhi, the couple bought Rs 10 tickets and boarded.
The men on the bus then began harassing the woman passenger. Why was she out at night with a man, they asked. It was 9.30 pm.
Her friend tried to intervene. The men retaliated by hitting him with an iron rod. The woman then tried to stop them. They turned on her. She was "punched repeatedly in the stomach," said the Delhi Police Commissioner before the men took turns raping her. The bus kept moving.
At 11 pm, the couple was stripped and thrown onto the road. Ram Singh went to a secluded spot and washed the bus, intent on cleansing blood stains and any semen that could later link the vehicle to the heinous attack.
CCTV footage from Delhi's National Highway 8 showed the bus had "Yadav" painted outside. As the police asked the public for information, Dinesh Yadav, the owner of Ram Singh's bus, approached the police.
Ram Singh was among the four men arrested yesterday. Two more accused of the rape are missing.
Ram Singh has refused to take part in an identification parade.