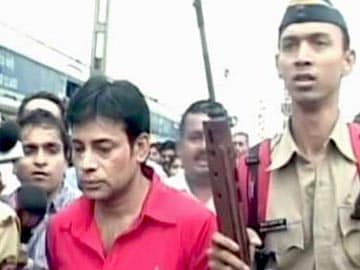 New Delhi:
Abu Salem, the gangster who is facing trial for allegedly demanding Rs five crore as protection money from a Delhi-based businessman in 2002, was today granted bail by a city court.
Additional Sessions Judge Dharmesh Sharma allowed the bail plea of Salem on a personal bond of Rs one lakh with a surety of similar amount after considering that the other co-accused in the case are already out on bail.
"The main prosecution witnesses have already been examined in this case and only three police officials are to be examined now... in totality of facts and circumstances, accused Abu Salem is granted bail," the judge said.
Salem, extradited from Portugal in November 2005, had last month filed the bail application before the court.
In his bail plea, Salem had said he has already been granted bail in two other cases pending against him in separate courts in Delhi and due to his long "incarceration" he is entitled to get relief.
During the proceedings today, the court also recorded the statement of businessman Ashok Gupta, from whom Salem had allegedly demanded Rs five crore and had also threatened him and his son Abhishek. Mr Gupta told the court he had received various extortion calls from Salem in April 2002 in which he had demanded Rs five crore from him and had also threatened that he would eliminate his family members if the demand was not fulfilled.
"On April 5, 2004, I again received a call from Abu Salem on my other phone on which the recorder was not installed. In these talks, Salem demanded Rs five crore and threatened me that in the event of non-fulfilment of this demand, my family will be eliminated," he told the judge.
Mr Gupta said he informed the police about it and a recorder was installed on the landline phone of his house. The businessman also told the court that Salem used to repeatedly call him and extended threats to him and his family.
The court has now fixed December 9 for recording the statement of remaining prosecution witnesses in the case.
Salem, along with five other accused, is facing trial for allegedly demanding Rs 5 crore as protection money from businessman Mr Gupta, a resident of Greater Kailash.
The other accused facing trial are Chanchal Mehta, Majid Khan, Pawan Kumar Mittal and Mohd Ashraf. One of the accused, Sajjan Kumar Soni, died during the course of the trial.
Police claims to have recorded some of the telephonic calls made by Salem to Mr Gupta.
Salem, facing trial in eight cases in the country including the 1993 Mumbai blasts case, is lodged in a jail in Mumbai.