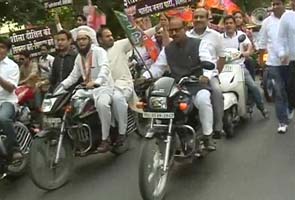 New Delhi:
The workers of Delhi unit of the Bharatiya Janata Party (BJP) on Sunday took out a motorbike rally against the fuel price hike announced by the government yesterday.
Delhi BJP president Vijay Goel and party leader Vijender Gupta led the 100-bike rally to Chief Minister Sheila Dikshit's residence. After it reached Ms Dikshit's residence, a few BJP workers along with Mr Goel, were detained as they tried to break security barricades. Police also used water cannon to control the protesters.
In their nearly four-km march, the BJP workers also violated traffic rules by not wearing helmets.
The BJP workers also demanded that Ms Dikshit should resign within 24 hours for misusing public funds during the 2008 Assembly elections.
"The chief minister must resign and if she is not ready to do so, the Congress must sack her. Her continuation is against the basic norms of governance," said Mr Goel after the rally.
"Sheila Sikshit has been clearly indicted by the Lokayukta for misuse of public funds and then the court has put a stamp of approval on this by ordering registration of an FIR," he added.
A trial court yesterday ordered filing of an FIR against Ms Dikshit for allegedly misusing government funds for an advertising campaign ahead of the 2008 assembly elections.
Former BJP state unit chief Vijender Gupta had filed the petition against Ms Dikshit for the alleged misuse of Rs 22.6 crore from public funds.
"If Delhi Police doesn't file an FIR against the Delhi CM, then we will take the matter to the President," said Mr Goel.