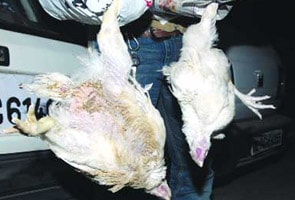 Delhi:
Investigations have revealed that chicken preparations served by a lot of restaurants and street food stalls across the Capital comprise dead chicken. The restaurant and street food stall owners buy the birds that usually die during transportation from the wholesalers in Paharganj area at throw away prices.
A chicken that weighs 3 kilograms and costs around Rs 420 at your local meat shop is sold for just Rs 50 (Rs 15 per kg roughly ) after its death.
A source working near Paharganj tipped off Mid Day about how dead chicken are sold illegally to food joint owners. Mid Day reporters posing as newcomers in momos business, reached street number 13 of Multani Dhaandhi area of Paharganj at 5 am. Through the night, trucks loaded with goods queued up near a weighing machine and these included several trucks loaded with chicken.
Till about 6 am, Mid Day noticed nine trucks loaded with chicken coming to get their goods weighed. When inquired about dead chicken, the truck drivers said we will have to wait till they had sold live chicken at Nawab road whole sale market.
During that time, several food joint owners and attendants, who happened to be regular buyers of dead chicken, started coming in. MiD DAY picked up conversation with one of the persons who claimed to be working at Chinese food joint in Rajender Place.
"These chickens are as good as live ones you get in local market. The best thing is you get these at 1/10 the actual price. It is difficult to keep price of momo at Rs 30 per plate if you happen to buy chicken at Rs 140 per kg. So this is the best option to beat the price rise."
Explaining the economics of the business he said, "Prices of all food items have gone up but the per plate price of momos and soup available on the street has remained the same. Buying dead chicken brings no harm and instead helps you survive in the business. That is what all do."
After an hour, the trucks returned and the drivers started striking a deal for dead birds. On an average there are 15-20 dead chicken on every truck.
The first truck driver had eight dead chicken in his truck which were sold for Rs 400 and the total weight of the chicken was just 22 kg. The next truck which came in had only 10 dead chicken in it. Mid Day reporters along with other customers then purchased these 10 dead chicken out of which the reporters kept four for the price of Rs 200.
On asking the truck drive if the delivery of these dead birds can be made a permanent feature at their restaurant, he replied, "
Bhai poori Delhi yahi se khareedti hai aur tum toh naye ho
(whole Delhi buys it from here and you guys are new). No one is sure how many chickens will die during transportation from a poultry farm near Panipat. We also have some fixed customers, so you need to come here everyday."
MiD Day also inquired from other local vendors and stall owner near the area about the sale of dead chickens.
"You have to do everything from striking the deal to taking dead chicken out of the cage on your own. People even come in cars to buy them. Their demand is maximum during party season," said a tea stall owner.
He further added, "Many local food joint owners near Paharganj and Karol bagh area are regular takers of these dead chicken. But they claim to boil them before use."
"No one is sure about the cause of their death. It could be some diseases too. Everyone should avoid consuming meat of animal which die during transportation. However, Indian cooking involves boiling of meat and vegetables at very high temperature which make food fit to eat but still selling the meat of dead animal is unethical," said Dr. Shyam Lal Gupta who runs a private veterinary clinic at Laxmi Nagar area.
Rs 420
Cost of a 3 kg chicken at your local meat shop
Rs 50
Price of a chicken of around the same weight when it's dead
Rs 30
Cost of a plate of momo
Business in wholesale
Delhi wholesalers market gets around 1.5 lakh to 1.75 lakh chicken every day to supply to retailers across the city, according to official figures. A daily sale of about 1.5 lakh birds brings in more than Rs 30 lakh.
Experts believe that Delhi's entire poultry trade would be severely hit if Haryana stopped the supply to the Capital. Delhi does not produce any broiler or layers (egg-laying chicken) and 80 per cent of the supply comes is from Haryana. The rest are from Rajasthan and Uttar Pradesh.
Way back in 2006, the bird flu scare sent prices of poultry products plummeting by about 60 percent with the birds being sold for as low as Rs.12 per kg in the Gazipur wholesale market in east Delhi.
While poultry products certified by administration-deputed veterinary doctors were being sold for Rs 20-25 at Gazipur, the uncertified supply was sold for a mere Rs 12 per kg.