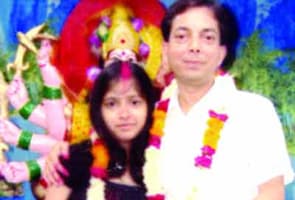 New Delhi:
Finally 37-year-old Kaushal Thakur and 23-year-old Shruti Tiwari are together again. MiD DAY had reported on Friday the travails of the couple after Shruti's family allegedly kept her under house arrest as they were unhappy with the match.
Shruti Tiwari is an MA (Spanish) student of Jawaharlal University (JNU) while Kaushal is a teacher and is completing his PhD from English and Foreign Languages (EFL) University, Hyderabad. The duo got married secretly and got it registered on August 29, 2010, in Delhi, without either's family knowing about it. The couple had decided to keep their marriage a secret until Shruti completed her MA.
Everything was smooth until, Shruti went on a semester break to her home in Ranchi. Since she was home, on December 26, her brother Shailesh Tiwari, a captain in Indian army tricked her into disclosing her marriage to their parents. Her family was furious. They allegedly snatched her phone and she was not allowed to access any social networking sites. Kaushal alleges Shruti's family also gave him death threats.
It was only on Thursday that Kaushal managed to contact the District Magistrate, Ranchi and got Shruti out of her parent's grip. She was escorted to a women's police station, where a case was registered against the members of her family. The couple is still not back in Delhi and is travelling but friends in JNU have already started celebrating.
"This really sends out a positive message. We are very happy for them. It was a hard painful battle for both but finally their love has won over their family's will," said Vismay Basu, who was part of protest. Shruti who stays at the Godavari Hostel in JNU, had very few friends. On Thursday, around 200 students of JNU from the All India Students Association (AISA) and All India Backward Students' Forum (AIBSF) including her friends held a demonstration at the Jharkhand Bhawan for her safety.