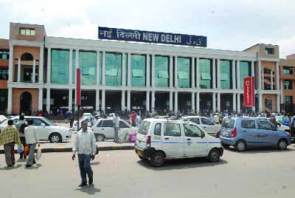 New Delhi:
It is a case of police officials calling up Police Control Room to complain against their colleagues. Reason being, officials posted at the New Delhi railway station had allegedly demanded a bribe of Rs 25,000 from a person to arrest a pickpocket.
Vinod Kumar, the victim, was going to Kanpur along with his wife Sushma. At the time of boarding the train, he was carrying Rs 25,000 cash in his pocket.
"When I was arranging my luggage, I was surrounded by three guys and one of them picked my pocket. For a moment, I could not understand anything. But when I realized that my cash was missing, I caught one of them and called the PCR," said Kumar.
Kumar said that the person he caught had tried to call his accomplice Sunil, who probably had fled with the cash. But as no one came, Vinod handed him over to the police at the station.
When he asked the cops on duty to register a case, he was in for a shock. The policemen told him that they can't arrest the accused as nothing had been recovered from his possession.
"We can only arrest this guy if we can show a recovery. You give us Rs 25,000 in cash and we will show this as recovery from him. Two days after his arrest, you can get back your cash from court. In the meantime, if his accomplices are arrested, we will try to get your money back. This is the only way an FIR can be lodged and he will be arrested. Or else, we will set him free," the official said, according to police sources.
Hearing this, Vinod called his employer and told him what had happened. His employer then contacted some police officials who made a PCR call, reported the whole matter and asked the victim do the same.
"Vinod then called PCR and said the police was demanding Rs 25,000 to lodge an FIR and arrest a person. When the New Delhi railway station police came to know about this, they too lodged the case," said the police source.
Meanwhile, Joint Commissioner (Crime Branch), Sandeep Goel said that he wasn't aware of the incident. "We will look into the matter and if something has been found amiss, we will take action against the guilty cops," he said.