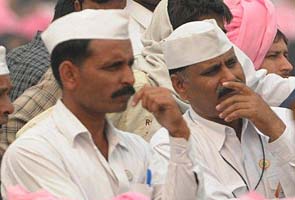 "I want rain, not FDI", said 43-year-old Harjari Ram, a farmer from Rajasthan, one among the thousands in the crowd gathered at Ramlila Maidan in the capital to hear the Congress push its reforms agenda.
At the mega rally, Prime Minister Manmohan Singh outlined the benefits of the United Progressive Alliance government's move to open up the economy to FDI in multi-brand retail, saying it was good for farmers and the people.
"I have no idea whether the government policy will really help farmers. For us good rain is enough, not FDI," Harjari Ram, a farmer from Nagaur district, told IANS.
Thousands of farmers, from Rajasthan, Haryana, Uttar Pradesh and other areas neighbouring the capital were ferried to the rally ground in buses, but many like Harjari Ram appeared oblivious to the economic reform policy announced in late September.
Keehva Ram, 60, also from Rajasthan, said he knew nothing of the rally beyond that it was organised by the Congress. "I was told there is rally in Delhi and I came," Keehva Ram said.
Asked if he thought the rally would help farmers, Keehva Ram nodded simply.
"The Congress is doing good for the farmers and it is a very good party. FDI is also good," said Ram, but when asked about FDI, he said he had no idea what it meant.
As he was being probed further on FDI, the sarpanch of his village butted in, saying, "Ask me the questions, not to them."
The Congress-led UPA government had announced 51 percent foreign direct investment (FDI) in multi-brand retail in September, in the face of massive opposition from most political parties and traders.