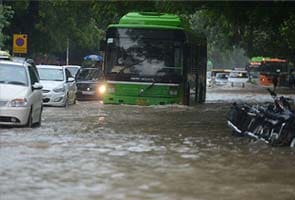 New Delhi:
The Delhi High Court has asked the Sheila Dikshit government and the civic agencies to clean the storm water drains on a war footing within a week so that there is no waterlogging during monsoon.
The bench of acting Chief Justice BD Ahmed and Justice Vibhu Bakhru passed the order following an assurance from Urban Development and PWD departments of Delhi government, New Delhi Municipal Corporation, three MCDs, Delhi Jal Board (DJB) on a PIL seeking de-silting of drains in the city.
"The counsel for.... assured this court that storm water drains would be cleaned within one week. This would be taken up by the agencies on a war footing. This will be tested out when next major rainfall hits Delhi.
"If there will be any waterlogging, the concerned Commissioner shall file an explanation in two weeks as to why there was waterlogging", the bench said in an order.
The court also pulled up the authorities for their failure to prevent waterlogging in the city despite the court's directions.
"We see the same thing happening here. Each year, we come across the same waterlogging problem..." The bench said adding "there was water in the drawing rooms of some judges. If it happens in VIP areas, then other areas would be terrible."
The court also expressed its anguish over the government's placing "incorrect" photographs before and after de-silting process.
"Photographs of before and after de-silting of drains are actually the same picture rotated 180 degree. This is mockery of court", the bench said and sought "proper" photographs by next date of hearing.