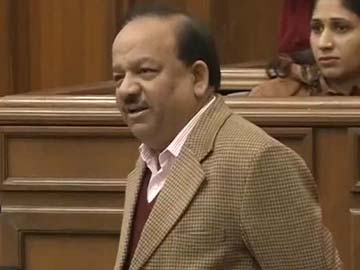 New Delhi:
Before Delhi Chief Minister Arvind Kejriwal took his trust vote today, the BJP presented a lengthy critique of his six-day-old government. (
Track live updates
)
In the debate that preceded the vote, the BJP's Dr Harsh Vardhan said that the policies introduced this week to provide free water and cheap electricity to the people of Delhi are deceptive, and that Mr Kejriwal and his ministers are doing a great disservice to the capital with their widely-publicised rides on the Delhi metro.
The BJP landed the most seats in the recent Delhi election, but it was deprived of a majority by the outsized showing by Mr Kejriwal and his Aam Aadmi Party (AAP), which placed second, and formed the government on Saturday with external support from the Congress.
The huge support for AAP was propelled by its promise to cleanse politics of corruption and to mount a no-frills government in which officials abstain from perks like large government bungalows and red lights or lal battis on cars that guarantee politicians the right of way on Delhi's streets.
Dr Vardhan acknowledged that when the Aam Aadmi Party was formed, "it brought hope to the people of this country." But he accused Mr Kejriwal of betraying that promise by aligning with the Congress despite his repeated prognosis of it as a graft-ridden party.
"Where was the need to form a coalition government?" asked Dr Vardhan, who was the BJP's chief ministerial candidate.
He also said that Mr Kejriwal's decision to provide nearly 700 litres of free water to houses everyday will benefit only the rich, because the policy covers only those households with a working or legitimate meter.