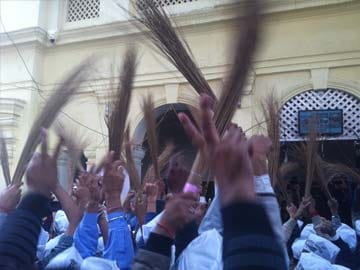 New Delhi:
Delhi Chief Minister Sheila Dikshit sent her resignation to Lieutenant-Governor Najeeb Jung on Sunday and the BJP was set for a return to power after 15 years as counting took place for the December 4 Delhi assembly polls.
The BJP was ahead in the triangular contest in the capital but will have to settle for sharing the spotlight today with Arvind Kejriwal and his nine-month-old Aam Aadmi Party or AAP.
The BJP is likely to get 37 of Delhi's 70 assembly seats. The AAP is within reach of at least 20. The incumbent Congress has been crushed, with leads giving it just nine seats.
"We did not expect a newcomer with no clear agenda to have this sort of impact," acknowledged the BJP's Chandan Mitra of the AAP's white-hot debut.
Mr Kejriwal ran for office from the New Delhi constituency, taking on Sheila Dikshit, the 75- year-old leader of the Congress, whose bid for a fourth attempt at chief minister has been firmly rebuffed by voters. At 11.30 am, he was ahead.
"Our party doesn't worry about things like who will be chief minister. We worry about how to help the country," Mr Kejriwal said early this morning, a checked scarf wrapped tightly around him. Then he went into his office to meditate.
BJP spokesperson Nirmala Sitharaman said the AAP, as "the new kid on the block" has proven it's a force to reckon with. But she said the AAP may find it tough to sustain its current popularity all the way to the national election.
"We are not interested in breaking the AAP, or trying to take some of its candidates," she said on NDTV. Earlier today, AAP leaders said some of their candidates are being approached by the BJP to switch teams.
Get the latest election news, live updates and election schedule for Lok Sabha Elections 2019 on ndtv.com/elections. Like us on Facebook or follow us on Twitter and Instagram for updates from each of the 543 parliamentary seats for the 2019 Indian general elections.