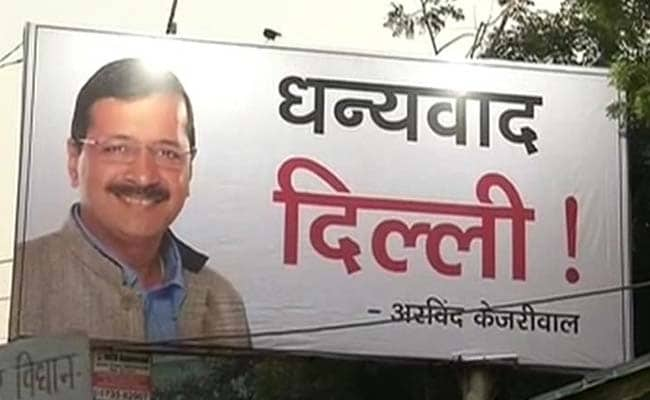 New Delhi:
Arvind Kejriwal, "Mufflerman" to many of his fans on social media, revealed a new look today, without the sweater and muffler. A banner this morning had the Aam Aadmi Party chief wearing a shirt, khadi jacket and a wide grin as he thanked every citizen of Delhi for the historic mandate to his Aam Aadmi Party.

But the 46-year-old former taxman was back in his blue sweater for his oath ceremony at the Ram Lila Maidan. He was running high fever in the morning. He has been seen coughing intermittently in the past few days, but today it is better, his aides said.

At the Ram Lila Maidan in central Delhi, 3,000 security personnel were posted for the oath ceremony. "Every citizen is invited," AAP has said.

Among the thousands of AAP supporters gathered to witness the inauguration was a man who called himself "Kejri-Mor". He was dressed like a peacock, with pictures of AAP and Mr Kejriwal on his feathers. He also danced a little for the cameras.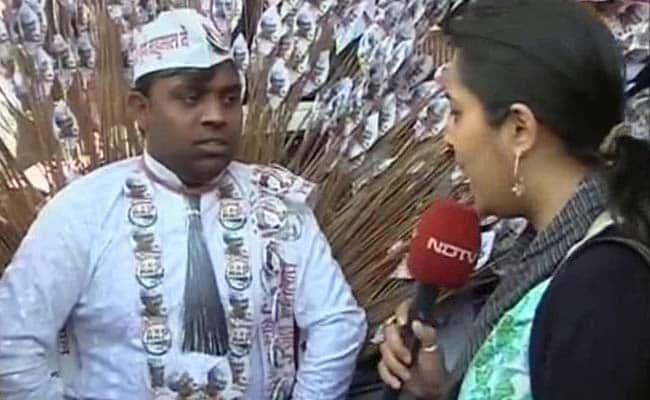 An AAP supporter at Ram Lila Maidan
Also present was "mini-Kejriwal," a four-year-old dressed up like the AAP chief, complete with a moustache, sweater and muffler.


Many supporters brought holi colours. A new drink was available at the venue, "AAP ka Cola," with the tagline 'Drink and fight for your right." It will be launched tomorrow but today, it was on the house.
Mr Kejriwal was sworn in as chief minister exactly a year to the day he quit after a 49-day term. His party swept Delhi in last week's election, winning 67 of 70 seats, reducing the opposition BJP to just three.