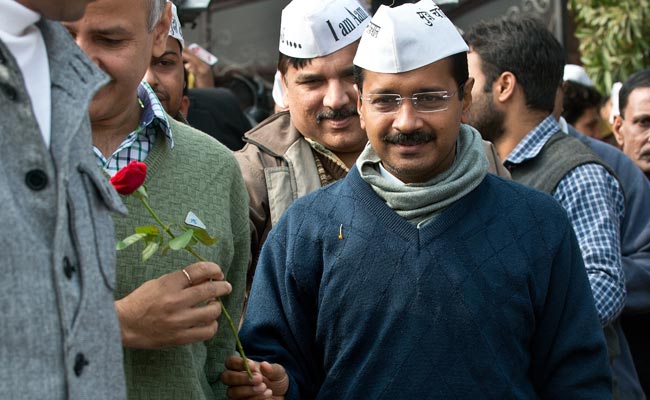 New Delhi:
Arvind Kejriwal
will be the new Chief Minister of Delhi. His one-year-old Aam Aadmi Party or AAP will form government in Delhi with external support from the Congress.
"The aam aadmi will be chief minister, not me," Mr Kejriwal said after meeting Lieutenant Governor Najeeb Jung.
He
has requested that his oath-taking ceremony be held at Delhi's massive Ramlila grounds on December 26
, from where his one-time mentor Anna Hazare and he had launched their massive anti-corruption campaign in 2011.
The capital had been stuck in a political impasse for three weeks after assembly elections on December 4 failed to produce an outright winner. The BJP, which won the largest number of seats in the Delhi assembly, but fell short of a majority, declined to form government. (
Watch: AAP aligning with Congress is betrayal of people, says BJP
)
Mr Kejiwal's AAP took second place with 28 seats. (
Meet AAP's giant killers
)
The new party, in an unusual move, consulted voters on whether it should try to form a government with the support of the Congress, which it had accused of massive corruption in its election campaign, tapping into a growing middle-class anger towards politicians, who are often perceived to be siphoning off public funds instead of providing public services. (
Read: 'No comment' from Anna
)
"People in big numbers are saying the Aam Aadmi Party should form the government," Mr Kejriwal said today. (
Read
) He will preside over a minority government with the help of the Congress' eight legislators.
The Congress has, however, made clear today that it will back Mr Kejriwal on an issue-by-issue basis. "The support is not unconditional," Sheila Dikshit, the outgoing chief minister of Delhi, said, adding, "There is no bar in removing support in case we feel that it is anti-people or anti-government." (
Watch: Sheila Dikshit's message to AAP
)
Top AAP leaders admitted that the alliance "could be unstable" and said the party is ready for all eventualities, including fresh elections. (
Read: Arvind Kejriwal's top 5 promises to Delhi
)
But, they said, AAP will not allow the Congress to hold it back from implementing its agenda and fulfill its election promises, which the Congress and the BJP say are unrealistic and unimplementable.