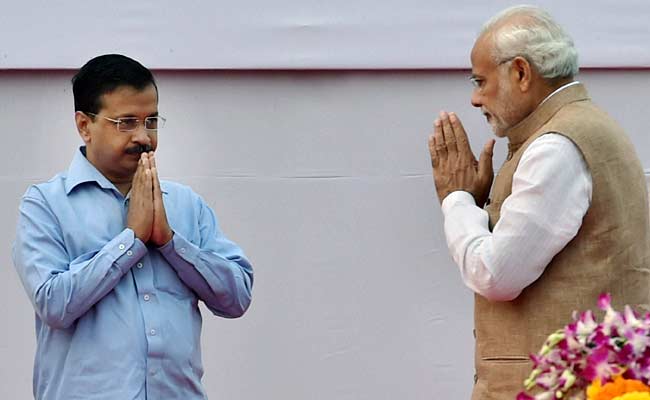 Highlights
Lt Governors failing to sufficiently hinder AAP government, he says
This is why Najeeb Jung was removed: Arvind Kejriwal
Anil Baijal also having his share of run-ins with AAP government
New Delhi:
Delhi Chief Minister Arvind Kejriwal today claimed that Delhi's successive Lieutenant Governors have invoked the Prime Minister's anger for failing to sufficiently hinder the Aam Aadmi Party government. PM Narendra Modi, he said, was "very angry" with Lieutenant Governor Anil Baijal. And this, Arvind Kejriwal said, was also the reason why Anil Baijal's predecessor Najeeb Jung was removed.
In a surprise move, Najeeb Jung had resigned his post in December 2016, with 18 months of his tenure still to go. The former bureaucrat, whose three years in office was dogged by tussle with Arvind Kejriwal, said he wished to return to his "first love, academics".
His successor Anil Baijal is also having his share of run-ins with Arvind Kejriwal's government. The Delhi Chief Minister claims the Centre has been trying to control his government through its representative, the Lieutenant Governor.
"I am told the Prime Minister is very angry with the present LG. The Prime Minister thinks Baijal is not creating sufficient obstacles. Because despite all the obstacles by the LG, the Delhi government is doing phenomenal work for people," tweeted Arvind Kejriwal.
"My sources tell me that the Prime Minister wants LG to do everything possible to stop AAP government's good work in education, health, water and electricity," read another tweet by the Chief Minister, who recently went on an apology spree to escape a number of defamation cases.
Even last week, Arvind Kejriwal had accused Anil Baijal of "creating obstacles" when the Lieutenant Governor congratulated teachers and students of Delhi's government-run schools on their performance in CBSE Class 12 exams. He accused the Lieutenant Governor of removing Atishi Marlena, the Oxford-educated leader working as Manish Sisodia's deputy to improve the education sector for a token salary of Rs 1.
"So u agree that Del govt doing great work in education? Who benefitted when u removed Atishi Marlena? If u stop creating obstacles, wonders cud be achieved in many sectors. It will make u also proud. Pl support our efforts. Lets be positve. Pl don't create hurdles in everything (sic)," Arvind Kejriwal tweeted.
Arvind Kejriwal's tussle with Lieutenant Governor Najeeb Jung had reached the Supreme Court, with the judges observing that an elected government "should have some power to run".
The centre claims since because Delhi is not a state, the Lieutenant Governor has special powers and has to sign off on the government's decisions. The argument was accepted by the Delhi High Court.