New Delhi:
Actor Anupam Kher led a march to the Rashtrapati Bhavan today in New Delhi to protest against the voices being raised over "intolerance" in the country.

Mr Kher, director Madhur Bhandarkar and painter Vasudev Kamath were among 11 members who handed over a memorandum to President Pranab Mukherjee. Mr Kher also met Prime Minister Narendra Modi later in the evening.

The memorandum is signed by 90 public figures, including Kamal Haasan, Shekhar Kapur, Vidya Balan, Raveena Tandon and Vivek Oberoi besides, authors, former judges and musicians.

"Any brutal killing is condemnable. We strongly condemn it and expect swift justice. But if it is used by some people to attempt to defame India at the international platform, then we should be worried," Mr Kher said while reading out their letter to the President.

The actor said the protests, which began with writers returning their Sahitya Akademi awards, shows that rather than addressing their concerns through their respective fields, these people are using media to "hurt the spirit of India".


"Nobody has the right to call our country intolerant. We are secular people and don't believe in selective outrage," Mr Kher said this morning.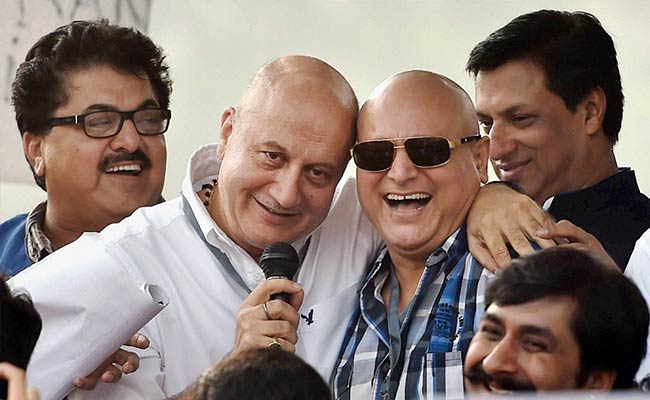 Mr Bhandarkar, who joined the march, said, "The whole projection and narrative that is going abroad is wrong. It is a diverse country and of course there are incidents but we all condemn them. There is no two ways about it."

Taking a dig at Congress vice president Rahul Gandhi, Mr Kher said, "The leader that opposition party is trying to project does not inspire me. He reads out from prepared statements. Our former PM also used to do the same. The passion with which PM Modi talks about India at international platforms, no other PM has ever done that. No other PM has also visited Kashmir so many times. So, why shouldn't I respect him?"

Asked about incidents of journalists being heckled at the rally, Mr Kher said, "If any individual did this during rally, I apologise."

Today's protest was a counter protest against a host of writers, scientists, historians and filmmakers who have raised their voices against what they call "rising intolerance" under the BJP-led government, and have returned various government awards and honours.