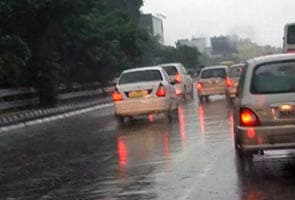 Delhi:
Delhi received another spell of heavy rain, bringing back cases of water logging as well as traffic problems in many parts of the city.
As per the Palam MeT office, the rainfall today was the highest recorded in a span of three hours since 1959. With 117 mm recorded within an hour, the MeT termed it one of the heaviest and "unprecedented" downpour of this season.
According to the weather report, the minimum was recorded at 25.6 degree Celsius, one degree above normal, down from yesterday's 27.2 degrees. The maximum was recorded at 36.2 degree Celsius, two degrees above normal, yesterday.
The return of rains to the city after a gap of six days, when the city recorded 96.1 mm of showers between 4 am and 5:30 pm that day, also brought back water-logging and resulting traffic problems to the city.
A senior police official said vehicular movement was slow due to water-logging and traffic problems in many parts of the city.
Water-logging in front of Deputy Commissioner office in south Delhi's Saket and Tis Hazari Gate No-3 in north Delhi affected traffic in those areas.
There were also reports of crawling traffic on MB road near IGNOU, Dhaula Kuan, Kirbi Place, Rani Jhansi road near Filmistan and Palam flyover from Dwarka to domestic airport side. Waterlogging was reported on Rohtak road in Anand Parbat Industrial Area also.
The cloudburst-like rain also hit air traffic at the Delhi airport with at least one flight diverted and four others asked to make a 'go-around'.
Water-logging on the arrival side of the IGI Airport inconvenienced passengers which led the airport operator to arrange the delivery of their baggage on the conveyor belts at the international side as a precautionary measure, a Delhi International Airport Limited (DIAL) spokesperson said.
The rains led to clogging and overflowing of the drains adjoining the arrival forecourt of Terminal 3, with the excess water spilling into the domestic arrival area. DIAL's engineering team was deployed in the affected areas to restore normal operations.
After the heavy rains, the operations at the airport were normal, the spokesperson said, adding that the runways were fully operational and all flights were landing and taking off normally.
(With PTI inputs)