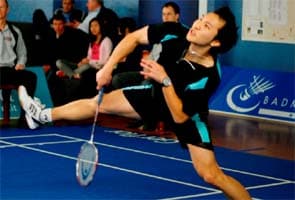 New Delhi:
He mixes daily trainings with a full-time job of web developer and is currently the triple national title holder in badminton.
Meet Joe Wu, New Zealand's premier badminton player who has come to Delhi hoping to teach the Indians and Malaysians a lesson or two in the shuttle sport in the Commonwealth Games.
Originally born in Taiwan, Joe immigrated to New Zealand along with his parents when he was just nine and currently, at 24, he is one of the top shuttlers of his adopted country.
He will spearhead Kiwis' challenge in the men's singles of the badminton event in the October 3-14 mega-event.
"I started playing at the age of four or five. It has always been my passion and after I migrated to New Zealand, I followed my passion. But it is not easy.
"I work as a web developer, I make web pages but I can't manage enough money to play all the top tournaments," Joe told reporters after completing his practice at Siri Fort Stadium in New Delhi.
"My day starts early as I practice for two hours from around 7-9 am and then rush to office and work till 4 pm, before going for practice in the evening for another 2-3 hours," said Joe, who won three national titles men's singles, men's doubles and mixed doubles this year.
Asked about his hopes in the tournament, the world number 102 shuttler said it would be very challenging because there are some tough teams such as India, Malaysia and Singapore.
"For the last four or five years we have been preparing for the Commonwealth Games and a good performance will set the things rolling for our future aim 2012 London Olympics. I really want to do well here. If I can beat any of the Indian players it would be great, they would also be hoping for some medals here," he said.
Asked about their experience of staying in Games Village, Joe said, "We have been here for two days and it has been an interesting experience so far. The food is great here. The people are friendly and the stadium, its great."
"Look at this venue, it is world class," he added.
The New Zealand badminton squad comprises eight members four men and as many women and Joe said the best bet for a medal would be their mixed doubles pair of Henry Tam and
Donna Haliday.
"We have a young team of eight players. I play in singles but I am ranked outside the 100 now. I had reached 59 once but lack of tournaments cost me the ranking. But our best bet is
our mixed doubles pair. They are ranked around 34," Joe said.