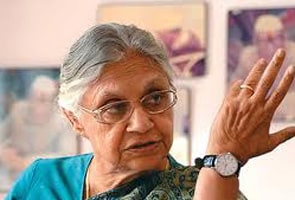 New Delhi:
India denounced Thursday "racist" and "unacceptable" remarks made by a New Zealand television anchor about an Indian minister and summoned the country's ambassador to present a complaint.
The presenter, Paul Henry, ridiculed the name of Delhi Chief Minister Sheila Dikshit earlier this week, adding: "It's so appropriate because she's Indian ... I've known about her for a while and I've been laughing ever since."
India's External Affairs Minister S.M. Krishna summoned High Commissioner Rupert Holborow, who said he had expressed "deep regret" and described the comments as "culturally insensitive, inappropriate and vulgar".
In a strongly worded statement from the Indian foreign ministry, the government condemned Henry's "bigoted views" and asked the New Zealand authorities to "take immediate demonstrative action".
"The government strongly and unequivocally denounces the racist remarks of the journalist in question," a statement said.
"It is shocking that such bigoted views have been aired by (a) representative of a mainstream media organization of a multi-ethnic democracy like New Zealand. These remarks are totally unacceptable to India."
Henry was already under fire for earlier comments that questioned the background of New Zealand Governor General Anand Satyanand, who was born in Auckland to Indo-Fijian parents.
He was suspended by TVNZ Tuesday after the television station received dozens of complaints over his anti-Satyanand remarks.
The controversial host made an on-air apology shortly before his suspension was announced, saying "I certainly didn't intend to sound racist", but invited further controversy by referring to himself as "half-gyppo" (gypsy).
TVNZ boss Rick Ellis said Henry would personally apologise to Satyanand when the governor general returns from the New Delhi Commonwealth Games, whose troubled organisation has caused headaches for Dikshit among others.
Henry is due to resume his presenting duties on 18 October.