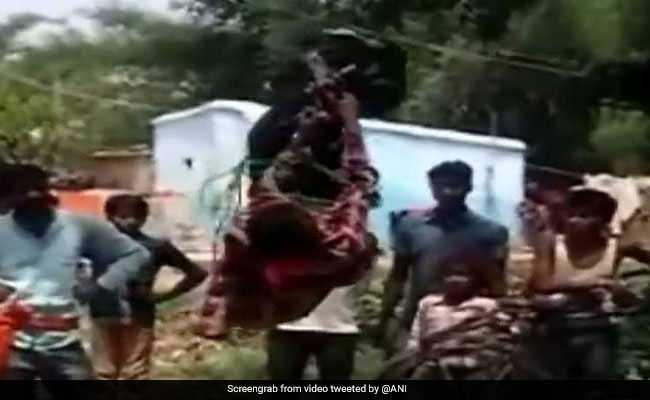 Patna:
Hands tied together, hung upside down with chains from a crane. A man in Bihar, accused of stealing a mobile phone, ended up on the wrong side of mob justice on Tuesday.
Amresh Kumar, the accused, can be seen surrounded by locals of Hingoli village in Bihar's Darbhanga district in the video released by news agency ANI.
It shows Amresh Kumar, cowering in fear, being slapped repeatedly by the agitated crowd before they tie him up and hang him from a crane.
As the locals are hanging him, a man stops them and says "Hang him upside down", before twisting the accused thief's body upside down.
The crane then lifts him higher in the air as the mob, including many children, watch.
#WATCH Man beaten and hung upside down for stealing a mobile phone in Darbhanga's Hingoli village. Police says, '3 people who thrashed the man have been arrested.' #Biharpic.twitter.com/KOzE1XBo9D

- ANI (@ANI) 18 April 2018
The police have arrested Amresh Kumar along with three men who were seen beating him up in the video.
"After the police saw the video, we immediately reached the spot and arrested him (Amresh Kumar). We have also arrested the three men who were beating him," senior police officer Darbhanga Dilnavaz Ahmad told news agency ANI.
Just days ago, another video had surfaced, in which a man tied his wife to a ceiling fan and filmed himself beating her with a belt. He then sent the video to his brother-in-law threatening her with further torture if his demands of dowry were not met. Read more on that story
here
.
With inputs from ANI