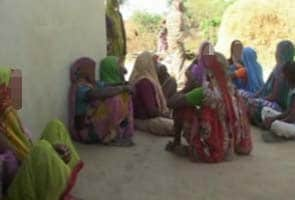 Shahdol:
Even as a nine-year-old girl from Shahdol in Madhya Pradesh fights for her life in a Nagpur hospital after being gang-raped, another case has been reported from the same district.
A six-year-old girl was allegedly raped and murdered in the Shahdol district on Friday. The girl was kidnapped from near her house. The family approached the police when she didn't return home by evening.
The girl's body was found near a pond the next morning. The post-mortem has confirmed sexual assault. The girl was last seen with her uncle who has now been detained for questioning.
Meanwhile, the nine-year-old is being treated by same doctors in Nagpur's Care Hospital who had devoted themselves last month to the four-year-old from Seoni who was brought there in a coma.
Like that little girl, this one was moved to Nagpur after her condition deteriorated in the government hospital where she was being treated in her home state.
The nine-year-old was raped on April 23 when she was on her way home, six days after the four-year-old was kidnapped by two men and raped by one of them in Seoni.
The men who assaulted the four-year-old and the nine-year-old have been arrested.
The four-year-old died in Care Hospital on April 20 and was cremated in her village. "I want to see the man who did this to her hanged publicly," her broken mother had said.
Over the last few weeks, a grisly series of attacks on young girls have stunned the country. In Delhi, a five-year-old was kidnapped and sexually assaulted by a neighbour in a room right below where her family lived. A 13-year-old who was gang-raped by eight men over nine days is recovering at Delhi's AIIMS hospital.