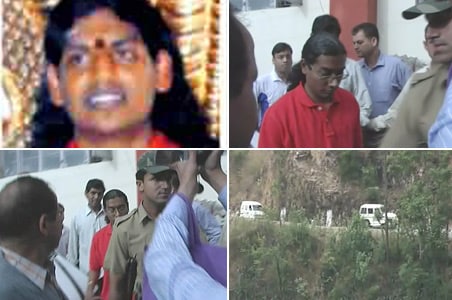 Solan, Himachal Pradesh:
Bangalore's "Sex Swami" Nityanand has been arrested a long way from home - in Himachal Pradesh's Solan district.
Nityanand was arrested in Arki by the Bangalore Police, who had sought the help of the Himachal Police. Police said at the time of arrest, the swami had Rs 3 lakh in Indian currency and 2000 dollars in travellers' cheques. (
Read: Swamis in scandals - What keeps the faith?
)
The self-styled swami would be produced before a local magistrate in Himachal Pradesh and then would be taken to Bangalore.
The controversial swami has been at large ever since television channels aired video clippings purportedly of him and a Tamil actress in a compromising situation. (
Read: Swami's alleged sex CD sells for Rs 1,000
)
Cases of rape, criminal intimidation and cheating among others have since been filed against the Godman based on various complaints. His ashram had been searched and hard disks seized were being examined, the police said. On allegations of rape against the swami, they appealed to victims to come out and give evidence.
The swami's ashram has maintained that there is a "conspiracy" to malign Nityananda's reputation and have said that the video footage telecast by TV channels was morphed.
After the sex tape surfaced, Nityananda's supporters issued this statement: "At this moment we feel that a mix of conspiracy, graphics and rumour are at play in these recent events that have unfolded. We are working on a legal course of action...In these trying times, we wish to reassure the lakhs of devotees and well-wishers whose sentiments have been deeply hurt by this conspiracy. We thank all the devotees and disciples for standing with us during these trying times."
Nityananda had recently announced that he was quitting as the head of his ashram in Karnataka and associated trusts to lead a life of 'spiritual seclusion'. Nithyananda's Ashram is about 19 kilometres outside Bangalore, where he was based and was attacked by an angry crowd.
He allegedly has 11 different ashrams in India, and close to 2 million followers all over the world. (
Read: Sex Swami has property worth crores?
)