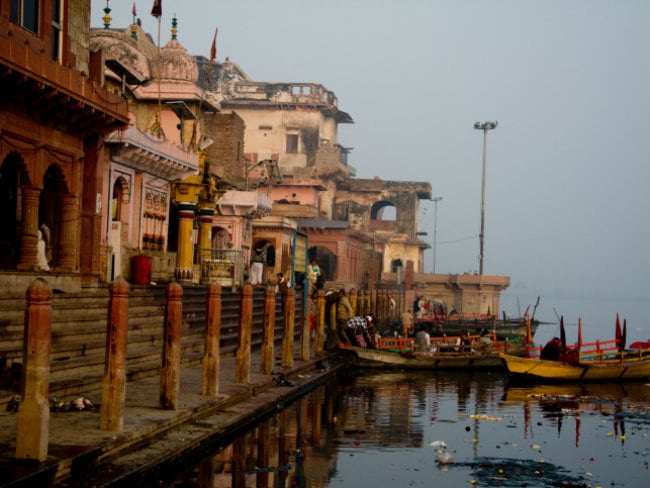 Mathura:
Hundreds of pilgrims will take a holy dip in the Yamuna in Mathura on Saturday on the occasion of 'Yam Dwitiya'.
A number of woman pilgrims, along with their brothers, have arrived in Mathura to take a dip on the auspicious occasion to attain salvation.
"Our dream of bathing in river Yamuna on this auspicious day with my sister would be fulfilled tomorrow," said Sallu and his sister Jhabbo, who have come from Neemsar Misrik in Sitapur.
80-year-old Vinodini Mishra, who has come with her brother Nitin from Pratapgarh was equally elated as she has come to Mathura for the first time.
"I have come with my brother as people say that bathing at Vishram Ghat on this auspicious occasion guarantees salvation," she said.
Narrating the legend, Goverdhan Peethadhiswar Krishna Das Kanchan Maharaj said pleased by the hospitality of his sister Yamuna, Yamraj blessed her saying if brothers and sisters together take a dip on this auspicious day (Yam Dwitiya) at Vishram Ghat then they would not be tortured by the messengers of Yamraj.
They would also get salvation, he added.
Meanwhile, district administration has also made elaborate security and safety arrangements for the pilgrims on the occasion.
With Yamuna being badly polluted, fresh water has been discharged from Okhala Barrage to flush off polluted water in the river.
"A section of flood company has been posted at the ghats with 20 divers to prevent any incident of drowning. Arrangement for round-the-clock power supply has been made and, generators would also be deployed to ensure uninterrupted power supply," District Magistrate Rajesh Kumar said.
Security has also been beefed up and police in plain clothes have been posted at Vishram Ghat, the main bathing point, he added.
At the ghats, municipal board has made adequate arrangement for bathing.
"Four camp offices have been set up at four bathing points, 50 boats and two motor boats would also be used for the occasion. Bathing area has not only been barricaded but from three sides it has been covered by boats," said Manish Gupta, Chairperson of Mathura Municipal Board.
Also, eight tents have been set to be used as changing room for ladies.