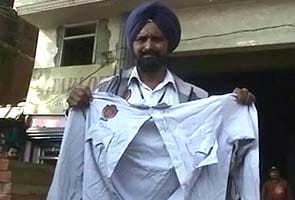 Gurdaspur:
Just two days after a police officer was shot dead by a former leader of the ruling Shiromani Akali Dal (SAD) in Punjab, a traffic policeman was thrashed by a relative of a youth wing leader of the same party in the state.
The accused, identified as Inderpal Singh, beat up traffic constable Gurnam Singh on Friday in full public view in Gurdaspur. Inderpal, who is the nephew of Gurdaspur Youth Akali Dal president Paramvir Singh Laadi, even ripped apart the victim's uniform.
"A case has been registered against Inderpal and his driver and they will be arrested," Gurdaspur SSP Rajjit Singh said.
In his complaint, Gurnam Singh has alleged that he had signalled the driver of a car to stop, after it hit another vehicle while plying on the wrong side of the road. Inderpal, who was present in the car, allegedly threatened him when he asked for the papers of the vehicle.
According to Gurnam, he was manhandled by Inderpal, who also tore his uniform. "Had I forgotten the Amritsar ASI's murder said Inderpal while attacking me," Gurnam Singh said in the complaint.
On Wednesday, Assistant Sub-Inspector (ASI) Ravinderpal Singh was shot dead in Amritsar's Chehertha locality after he confronted former Akali Dal politician Ranjit Singh Rana for allegedly harassing his daughter. He was first shot in the legs. On way to hospital, Mr Rana allegedly waylaid him and shot in the chest from close range.
The accused later apologised for the incident, saying he regretted his act. But he also alleged that the ASI too had fired at him - a claim yet to be confirmed by the police.
(Read: Punjab cop murder - I regret what I did, says accused Ranjit Singh Rana)

(With PTI inputs)