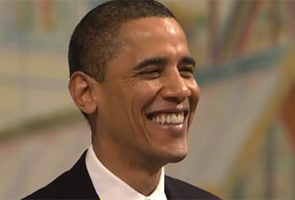 Mumbai:
It's not new to the gastronomic world, naming a dish after a celebrity. After all, a few years ago when former UK Prime Minister John Major came to aamchi Mumbai, a five-star hotel named a dish after him. Executive chef Hemant Oberoi recalls having once created a 'John Major Lamb Curry'. And the US President and his wife's visit around the corner (Nov 6) is stimulating other restaurants to follow suit.
For starters, how about sipping on a 'Barack Berry'? And another cocktail is christened the 'Obama-Mama'. "That's got Obama's favourite drink -- grape," says restaurateur Nisarg Shah. Or, if you're thinking of tucking into pure sin chocolates -- Mr Brown, a simple, dark variety and Mrs. Brown, that's a creamy, soft, milk chocolate! May be you'll be tempted to take a generous bite off the mouthwatering Obama's wrap.
Keeping in mind Obama's love for pumpkin pie, an ecotel in Mumbai has created 'Oh Bama Sweet Pie'. "Since the sweet potato pie is a favourite dessert of Obama, this too is filled with creamy sweet potato and served with whipped cream," says Sandeep Kalia, executive chef of the hotel.
There's a sweet nothing for Michelle too -- 'The American Doll Michelle Waffle'. "It's a crispy, baked sweet waffle topped with pineapple, grapes, dry cherry matured in port wine and flavoured with cinnamon, served with fresh cream. Just like Michelle Obama's who's loved by all for her caring, sweet nature," says restaurateur Nicolo Morea.
Wait, it gets Indian too. An eatery has made the 'Barack Bhakri' with
turiya patra
. "We've named it like that because it's a simple dish that's just like Obama," says owner Shriraj Bhukhanwala.
Copyright restricted. Under license from
www.3dsyndication.com