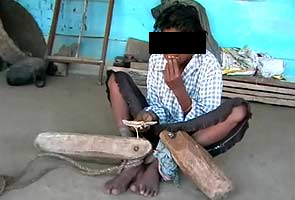 Bhopal:
In a Madhya Pradesh village, nearly 350 km from Bhopal, a mentally-challenged woman, who is 22, has been found with large wooden shackles around her feet.
Her family says that she used to wander the streets on her own, and was raped twice, but the police refused to register their complaints.
They say they chained her to keep her safe.
The woman was married when she was 17, but was sent back to her parents by her in-laws after six months.
NGOs are now coming forward to help the woman and her family.