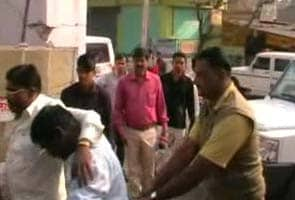 Jalgaon (Maharashtra):
A Maharashtra Police constable in Jalgaon has been arrested by the Anti-Corruption Bureau (ACB) for allegedly accepting a bribe of Rs 65 lakh.
The constable, Bipin Jagannath Tiwari, was caught red-handed while accepting the bribe from the official of a private company for not registering a complaint against the firm, Superintendent (ACB), Shashikant Mahavarkar said.
The constable has been sent to remand in police custody till February 1.
According to the ACB, the constable, apparently on behalf of his superiors, had allegedly demanded Rs 1 crore from the manager of a Pune-based private company against whom a villager had filed a police complaint.
The villager, Ravindra Ashok Landage, had alleged in his complaint that the company, which deals in the business of agricultural produce, was carrying out transactions in contravention of RBI and SEBI guidelines and accepting term deposits from people.
"The accused initially demanded Rs 1 crore from the complainant, but settled for Rs 65 lakh," the SP added.
The investigations are on to identify the accomplices of the constable in the police department. Sources say that Mr Tiwari has property worth Rs 2.5 crore, and it is also being investigated how a constable could own such properties.
(With inputs from PTI)