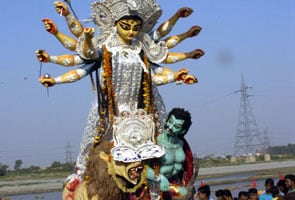 Kolkata:
She is a politician and a fiery orator, she also sings, paints and recites poetry. And now Railway Minister Mamata Banerjee, who maintains a punishing schedule, has found the time to design the idols and decor of a Durga puja marquee.
The Trinamool Congress chief has chosen a community puja - the Bakul Bagan Sarbojanin Durga Utsav - close to her Kalighat home in south Kolkata to showcase her talent. She joins a long list of painters who have designed for the organizers in the past.
"Didi", as she is called affectionately in West Bengal by her supporters, and who many believe will step into the chief minister's chair after the West Bengal assembly elections next year, has drawn sketches for the puja decor and idols, say the festival organisers.
She has also handpicked the people who are putting her ideas into action.
"An artist, Arun Kumar, is making idols based on the design made by Didi. The minister chose Kumar herself, as he stays near her residence in Kalighat," Asit Ghosh, president, Bakul Bagan Sarbojanin Durga Utsav, told reporters.
"Likewise, we have engaged a local decorator who is constructing the marquee according to her sketches. The oval shaped marquee is being made with bamboo and tarpaulin and will be decorated with paintings done by Didi," said Ghosh.
A Trinamool leader close to Banerjee said, "The puja theme is based on the concept of 'mahakaal' (a mythical period that begins before the beginning of life and continues till date)".
"The idols and the marquee will portray traditional Indian art forms mingling with modern arts," he added on condition of anonymity.
Banerjee has also agreed to inaugurate the community puja October 11, three days before the annual five-day worship of Goddess Durga begins.
"This is the 83rd edition of the Bakul Bagan Sarbojanin Durga Utsav. We will open it for public viewing that day itself. We have also invited Governor MK Narayanan to be chief guest October 11," said Ghosh.
Ghosh refused to part with any more details about Banerjee's ideas. "Mamatadi herself will brief everybody on the inauguration day."
According to puja organisers, in 2007, when Banerjee came to visit the idols at Bakul Bagan, they requested her to design the puja theme for the next year. But this is the first time she has actually done it.
"We are well aware of didi's talents. We have heard that she recites poetry and seen her beautiful portraits and landscapes. So we decided to request her to design our puja theme."
"A few months back Banerjeee informed us that she would design the idols and canopy for our puja this year," Ghosh said.
"It's a great achievement for us as the railway minister despite her busy schedule has managed some time for us, drawing the structure of the marquee and the images of the idols," he said.
Ghosh said this was the first community puja committee to start a theme based celebration, which has become the in-thing now.
"Since 1975, the idols and marquee for our puja have been designed by renowned painters like Nirode Mazumdar, Bikas Bhattacharjee, Rathin Mitra, Isha Mahammad, Wasim Kapoor, Dipali Bhattacharya, Sarbori Dutta, Prabir Bepari, Shanu Lahiri and Subhaprasana," he added.
This time, with Banerjee associated with the puja, organizers are expecting a record footfall at the marquee.
Goddess Durga is depicted astride a lion slaying the demon Mahishasura. It is believed that during the annual Durga Puja festival, the goddess, accompanied by her four children Ganesh, Kartik, Lakshmi and Saraswati, descends on earth where she stays for four days. Durga puja is the most popular festival in eastern India.
Incidentally, Banerjee also holds a popular Kali puja, another popular festival in Bengal, at her home.
Get Breaking news, live coverage, and Latest News from India and around the world on NDTV.com. Catch all the Live TV action on NDTV 24x7 and NDTV India. Like us on Facebook or follow us on Twitter and Instagram for latest news and live news updates.