Coimbatore:
On the occasion of Tamil New Year or Puthandu, an idol at Sri Muthumariamman temple in Coimbatore was decorated with currency notes worth Rs 4 crore and diamonds and pearls worth Rs 1 crore. The Goddess' idol was adorned with denominations of Rs 200 and Rs 2,000.
The prefix Muthu means "pearl", Mari means rain and Amman means mother. The ancient temple is dedicated to Mariamman, the goddess of rain and fertility. The temple is thronged throughout the year by tourists, especially during festivities.
Another temple in Chennai's Arumbakkam, the Bala Vinaynagar Temple, was also adorned with currency notes of all denominations ranging from Rs 1 to Rs 200. According to news agency ANI, it cost approximately Rs 4 lakh to cover the interiors of the temple from wall to wall. However, it was not clear if the money used in this temple was real.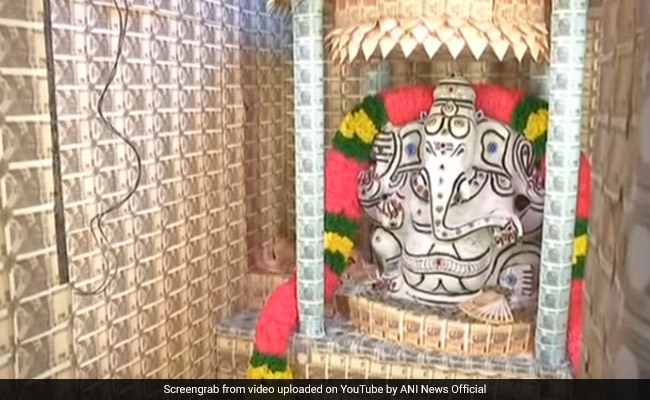 A video by news agency ANI showed devotees walking through alleys lined with rupee notes. A Ganesha idol mounted on top of a pedestal covered with currency notes and a delicately ornate chandelier made out of Rs. 200 and old Rs 50 notes were also on display. Column, pillars - all made of money - made for an unusual sight as people came to pray.
Puthandu is considered auspicious for making new starts. The day is celebrated as Vishu in Kerala and Bihu in Assam, Vaishakhi in Punjab and Pohela Boishakh in West Bengal. Manipur, Tripura, Odisha, Bihar, Uttar Pradesh, Himachal Pradesh, Haryana, Rajasthan, too commemorate their new year festivities on the same day. It also marks the beginning of New Year in West Bengal, Punjab, Manipur and Odisha among other states. People celebrate Puthandu by cleaning their homes, cooking traditional meals and visiting the temple.
(With Inputs From ANI)