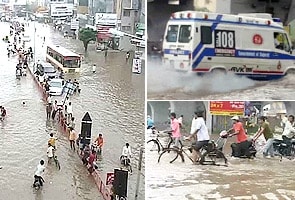 Ahmedabad:
Heavy rains in the last 12 hours have adversely affected life in several parts of Ahmedabad causing flooding in residential areas.
Four persons were killed in a house collapse in Dudheshwar area of western Ahmedabad following a house collapse.
The city recorded an unprecedented rainfall of 10 inches in the last 12 hours throwing life out of gear. The worst affected areas were Ghatlodia, Ranip and Memnagar areas where rain waters flowed into the ground floor of several homes.
Even vehicles were submerged in flood waters. The municipal corporation was trying to clear out water from the affected areas.