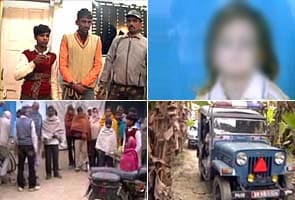 Hajipur (Bihar):
Four-year-old Neeraj, kidnapped on December 22 from his village in Bihar's Hajipur district, was murdered within an hour of his kidnapping. The culprits were his immediate neighbours, who feared they would be found out.
But killing Neeraj did not stop these boys, aged between 17 and 19 years, from making one ransom call after the other to the family of the victim.
The calls kept coming till today, when the police finally cracked the case and recovered the boy's body.
"They went on making ransom calls even after killing their victims. They wanted to make money out of this," said Sujeet Kumar, SP, Hajipur.
The accused even went to Neeraj's house and offered their help in tracing the child - just days after killing their victim, and dumping his body near a river.
They did this because the boys wanted Rs 15 lakh to live what they call a nice life.
"We looked everywhere, but just couldn't find Neeraj. We never suspected these boys," said Dilip Kumar, relative of victim.
The police have promised a chargesheet against these boys in two days. But this story is a grim reminder of how people can go to any extent, just all for money.