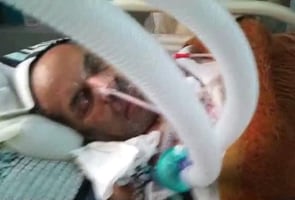 Jodhpur:
In what can be termed as the most horrific case of medical negligence, a 70-year-old paralysed man at a government hospital in Jodhpur was allegedly attacked by rats who nibbled on his face while hospital staff slept.
What is more shocking is that the man was in the Intensive Care Unit (ICU) of the Mathura Das Mathur Hospital and on Life Support system.
The Rajasthan government has now initiated a probe and promised tough action against the hospital authorities for the alleged negligience.
Rajasthan Health Minister AA Ahmad told NDTV,"Let me assure you that whether it's junior staff or senior staff or senior-most doctors, if anyone is found responsible for this shocking incident, we will take severe action against them."
Meanwhile there are serious worries over the condition of the man after the attack by rats. He has a blood clot in his brain and has been in the ICU of Jodhpur's MDM hospital for over two months. And after rats nibbled at his ears, nose, lips and cheeks on Tuesday night, his condition has worsened.
What makes matters worse is that while his body was being nibbled by rats, none of the medical staff in the ICU even noticed the rodent attack, which had damaged even the patient's ventilator tube.
Ultimately it was the patient's daughter who raised an alarm after noticing blood stains and scratches on her father's face.
The incident has left patients and their relatives shaken.
"If rats can attack a patient in ICU, what will happen to patients in ordinay wards," asked a concerned relative of a patient at the hospital.
This is not the first time that rats have attacked patients in Jodhpur's government hospital. A few years ago an infant was attacked by rodents in the Umaid hospital.
Doctors now say they will now seek professional help to do away with the rodent menace that is crippling the government healthcare facilities in Jodhpur.