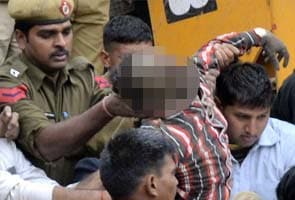 Faridabad:
It's been more than 24 hours since an under-construction three-storey school building collapsed in Faridabad, but rescuers are still trying to pull out people trapped under the debris. Six people were killed and nine others injured when the building collapsed on Tuesday.
A case of culpable homicide not amounting to murder has been filed against owner of the land, lease holder, engineer and the contractor. But there is fear among the residents because many houses in the area have been built by the same contractor.
"It's been 24 hours and we are still not feeling safe. I live in the building nearby, but I'm really worried - should I go into my house or not? When these rescuers try to dig holes to bring out trapped people, the vibrations make us feel as if our building is coming down. We are very scared," said Seema, a resident from the locality.
The three-storey under-construction building of Modern DPS School - built by SRS Group in sector 88 - suddenly collapsed at around 12.30 pm on Tuesday, an official said. Thirty people were in the building at the time of the incident.
"A fear psychosis is there. We are shocked. We spent the whole night outside our houses," said another resident.
The academic classes (2013-14) were supposed to begin in the building in the coming months.
(With inputs from IANS)