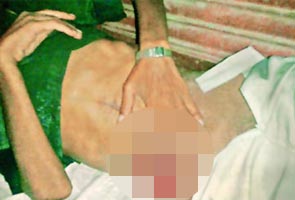 New Delhi:
It's a shocking story of apathy from a hospital in the national Capital. Three months ago, a 25-year-old Ved Ram, a labourer, went to see a doctor at Guru Teg Bahadur (GTB) Hospital after experiencing recurring pain in his stomach. Doctors suggested surgery; they blocked his excretory system and made a hole in his stomach and inserted a pipe as an alternative.
"I was feeling pain in my stomach so I went to the hospital. I am an orphan so nobody was with me at the time. The doctors operated upon me and they inserted a pipe for excretion of wastage and blocked my anal system," said Ved Ram.
But this was just the beginning.
"After few days the doctors threw me out of the hospital when they realised that nobody had come to take care of me. After the operation I am unable to walk. Then I asked for help from a rickshaw-puller and he carried me to my colony in Krishna Nagar area. The locals helped me with food and clothes but I was shivering because of unbearable pain," said Ved Ram.
The local residents called the Police Control Room (PCR) for help.
"I remember that I called the PCR on the 8th of this month and the van took Ved to Hedgevar Hospital but again he was thrown out and someone dropped him here," said Pawan Kumar, a resident of the area.
According to Ved, the PCR took him to the Hedgevar Hospital in Karkardooma, but the authorities dumped him again.
"The doctors gave me an injection, and I was feeling better but then the doctors told the ward boys to dump me outside the hospital as the cops went away," Ved added.
The victim was lying outside the hospital in the rain and was crying for help. Again a rickshaw-puller helped him and dropped him back at his dwelling. Finally, on Tuesday night, the residents of the area again called the PCR and got him admitted to GTB Hospital.
"I have known him from a long time; he was living in a rented accommodation and was working as a labourer. So I again called the PCR and eventually the same PCR van came which had dropped him at Hedgevar Hospital earlier. The cops in the PCR were also shocked when they saw Ved in this situation. Finally, we admitted him to GTB Hospital but we are not sure whether they will dump him again or will they treat him this time," Pawan Kumar added.
The doctors at GTB hospital refused to comment on the issue when contacted.