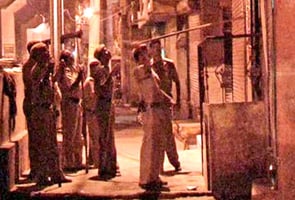 New Delhi:
A constable of the Dabri police station, in high spirits, showed the ugly side of a law preserver, as he misbehaved with a woman on Saturday night.
The victim, Jyoti, a member of the nomadic Sansi tribe is a resident of West Delhi. The cop even fired shots with his service revolver at her relatives.
The constable, Sandeep, allegedly had misbehaved with the lady on several occasions in the past. He was at his worst on the night of July 24 when the incident occurred.
He entered Jyoti's house and started molesting her. Her husband, Jitender Kumar, protested but had to run away to save his life as Sandeep opened fire on him. Thereafter Sandeep, in an inebriated state, fired at Jyoti's in-laws.
A bullet grazed her mother-in-law's left leg causing a deep wound. This ruckus came to an end only when the locals surrounded him and called the Police Control Room (PCR) for help.
Events took a turn for the worse when the SHO of Dabri police station, Ram Krishan Yadav, reached the area and instead of punishing the guilty, arrested the in-laws of Jyoti who had been booked earlier in a case of selling spurious liquor. He defended his constable calling the allegations baseless.
"They are the culprits of Dabri-alcohol case of March 2009. They were in Tihar Jail and were released just a few days back. So now they are trying to take revenge on us," the SHO commented on the arrest of the in-laws.
The locals protested through the day on these actions by the police. Speaking on the issue, Jyoti said, "Sandeep and other policemen used to come to our home and misbehaved with us. We informed the police on several occasions but they never heeded our requests, rather insulted us because of our in-laws."
"Police are trying their best to trace the people responsible for this tragedy. We began the investigations as soon as we received information about the matter," said a police officer.