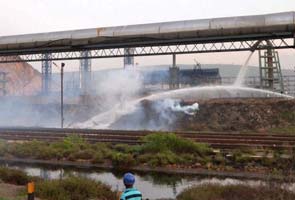 Visakhapatnam:
The death toll in the massive fire at state-run Hindustan Petroleum (HPCL) refinery-cum-petrochemical complex in Visakhapatnam has risen to nine with one more worker succumbing to burn injuries today, a PSU official said.
50-year-old S Sanyasi Rao, who was undergoing treatment at the Old Care hospital in the port city, died today, the official said.
At least 34 injured workers are being treated in various corporate hospitals across the city. Four others have been airlifted to a Mumbai hospital for treatment, the official said.
Around half a dozen of them have received more than 70 per cent burns and are said to be in critical condition.
On August 23, the blaze started in the sprawling complex at around 4 pm, killing two workers and injuring several others. A day later, the death toll climbed to eight, including seven workers of private companies and a HPCL employee.
As per preliminary reports, the fire broke out due to blasting of cooling tower due to short-circuit.
The extent of damage to the refinery-cum-petrochemical complex was still being ascertained.