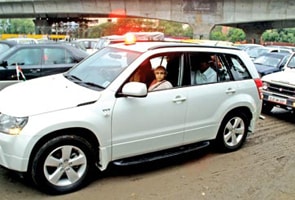 New Delhi:
Chief Minister Sheila Dikshit had to taste the bitter pill of Delhi traffic on Wednesday evening while going to inaugurate four foot over bridges. However, the place and time chosen for the event proved a bit too much for one of the most powerful person in Delhi.
(Read: Water-logging stops Delhi's morning commute)
Dikshit started from Delhi Secretariat at around 5.30 pm. By then the traffic in and around New Delhi district is at its peak. The day also witnessed sporadic rain causing water logging in various areas that worsened the traffic situation.
(See: Delhi water-logged after rain:Your photos)
The first destination, Pragati Maidan, did not pose any problem being just a stone's throw away from the chief minister's office. After announcing the foot over bridge open, she left for the next point, Barapulla through Mathura Road. The traffic was pretty heavy but she was able to reach the venue negotiating the usual rush.
But the real trouble started when she left for Saket. The traffic on Lala Lajpat Rai Path, beyond the Oberoi flyover was simply unmoved by the fact that 'head of the state' had joined it. Dikshit, along with close aide Raj Kumar Chauhan, remain stranded in bumper-to-bumper traffic due to water logging on the road.
After waiting for about two hours, the chief minister decided at around 7 pm that she would not be able to make it and took a u-turn to reach Moti Bagh, the next destination.
Sources in the Delhi administration said that the Saket foot over bridge was later inaugurated by Yoga Nand Shastri, Speaker, Delhi Assembly.
Dikshit left for her home on Moti Lal Nehru Marg immediately after the inauguration at Moti Bagh.