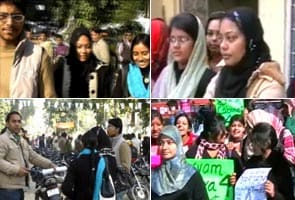 Aligarh:
Even though, the girl candidates lost out to their male counterparts at the Aligarh Muslim University Students Union election, history has already been made as they have set the precedent by contesting for the first time in the last 126 years.
It was a fierce battle with the stakes high on both sides - the girls were fighting to rewrite the course of history and the boys were fighting to save their turf.
This is no small feat in this predominantly male bastion.
"Last night I saw with my own eyes that the boys were trying to lure the girls to vote for them by promising all kinds of things, and that was really difficult for me to digest," said Asma, AMUSU Presidential candidate.
Till yesterday, Nahid Mustafa was just yet another student studying law. Today, her name stands out among the nearly 40,000 students who study here.
Even though they did not win, but they still have got more than just a victory. And this change may have taken a long time to come but now there's no looking back.
"This will empower women to go further in life and be a part of the larger political process," said a student.
A Deoband fatwa prohibits women from contesting elections and asking men for votes. In that backdrop for these girls of the AMU to even contest elections meant they have already broken many boundaries erected by men.
Get Breaking news, live coverage, and Latest News from India and around the world on NDTV.com. Catch all the Live TV action on NDTV 24x7 and NDTV India. Like us on Facebook or follow us on Twitter and Instagram for latest news and live news updates.