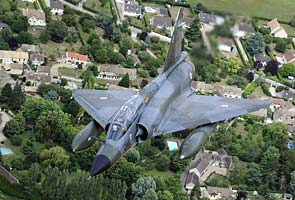 Bhind:
A Mirage 2000 fighter aircraft belonging to the Indian Air Force (IAF) crashed today in the Bhind area of Madhya Pradesh. The pilot and the co-pilot reportedly ejected to safety.
Air Marshal Anil Chopra and Wing Commander Ram Kumar were flying the jet when it crashed in Gorelalkapura village, about 100 kms from Gwalior.
The aircraft, which was on a routine sortie, crashed five minutes after take-off while it was still climbing, when it developed a snag in the engine, an IAF spokesperson said in Delhi.
Air Marshal Chopra is one of the senior most officers to be involved in a crash. He is the Commodore Commandant of 1 Squadron and was on an official visit to Gwalior.
The last time an Air Marshal was involved in an emergency was in 2002 when Air Marshal V K Bhatia, on an inaugural flight to Kargil, flew his AN-32 across the Line of Control and was fired upon by Pakistan. He, however, escaped unhurt.
Interestingly, he was also fired upon by Indian gunners when he crossed back into India, but he managed to land unharmed in Leh.
The IAF has reportedly ordered a Court of Inquiry to ascertain the reasons behind the crash.
The Air Force operates a fleet of 51 Mirage aircraft from the Maharajpura air base in Gwalior.
(With inputs from Press Trust of India)