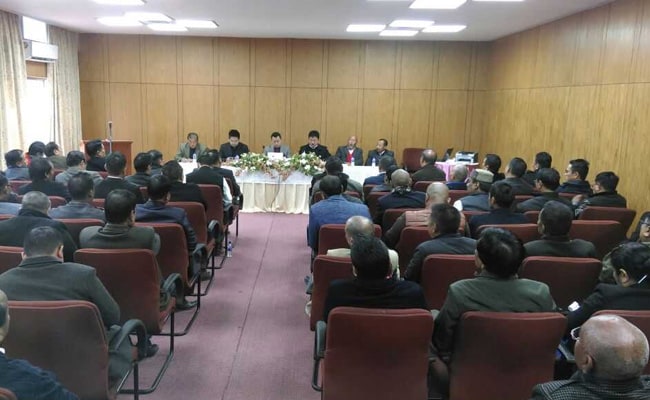 Kohima:
A 12-hour bandh called by the Core Committee of Nagaland Tribal Hohos and Civil Organisations (CCNTHCO) began in parts of Nagaland Thursday amidst tight security.
The bandh has been called against an official notification for the February 27 Assembly poll despite a general appeal for solution of the Naga political problem before the elections.
While the bandh was being peacefully enforced in at least five districts, some tribal bodies decided not to support the it in six districts.
The Core Committee said the decision to call the bandh was taken at a meeting of all the apex tribal hohos and mass- based organisations on January 29.
The committee said in a release the decision was unanimously taken by all concerned and therefore it would go ahead as resolved.
"The very purpose of this bandh is in pursuance of the resolutions adopted collectively by the tribal hohos, mass- based organisations and all political parties, that Nagas prefer to have solution first rather than election now," it said.
Some apex tribal bodies, including Angami Public Organisation (APO), Eastern Nagaland Public Organisation (ENPO) and Lotha Hoho, were not imposing the bandh.
An APO statement had said Wednesday no bandh would be allowed within Angami-inhabited areas and asked the people not to participate.
ENPO leader David Thingchem had said the organisation would not impose any bandh within its jurisdiction covering Mon, Tuensang, Kiphire and Longleng districts.
The Lotha Hoho also decided not to support the bandh in Wokha district.
Meanwhile, officials in the police and election department said elaborate security arrangements were in place to thwart any untoward incident and for candidates to file nominations.
Upholding the January 29 joint declaration of not participating in the elections, no political parties have so far issued party tickets to any of their candidates.
Nagaland Chief Electoral Officer Abhijit Sinha said Wednesday was the first day of filing nominations but there was no turnout.
The last date of filing nominations was February 7.
Representatives of 11 political parties, including the Naga People's Front, the BJP and the Congress, had decided on January 29 to not contest the February 27 elections, agreeing to the demand of tribal bodies and civil society groups to resolve the Naga political problem first.
The state BJP had later backed out of the joint declaration of not contesting the polls and said the party's central leadership would take a call on the matter.