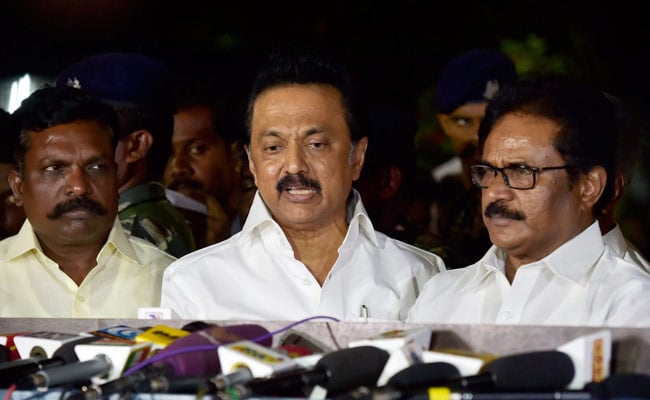 Chennai:
A day after the party fared poorly in the RK Nagar by-election, main opposition DMK today constituted a three-member committee to identify the reasons for its failure in the high-stake contest.
Sidelined AIADMK leader TTV Dhinakaran, who contested as an independent, won the bypoll securing 89,013 votes against ruling AIADMK nominee and nearest rival E Madhusudhanan's 48,306 votes. DMK's N Maruthu Ganesh came third securing 24,651 votes, in the process, losing deposit.
The three-member panel, constituted on the directions of DMK Working President M K Stalin, would comprise its Whip in the Assembly R Sakrapani, legal wing secretary R Girirajan and Assistant Secretary Ve Kannadasan, a party statement said.
The committee had been directed to submit its report before December 31, it added.
The bypoll was held to fill the vacancy caused by the death of sitting member and then chief minister Jayalalithaa on December 5 last year.
In its reaction to the poll outcome yesterday, DMK attributed the victory of Mr Dhinakaran to "money power" and claimed it was "a Himalayan defeat for the Election Commission rather than the DMK candidate".
The AIADMK has alleged there was a 'tacit understanding' between DMK and Mr Dhinakaran to defeat the ruling party.
Meanwhile, in another statement, DMK said a high-level committee meeting headed by Stalin would be held on December 29 at the party headquarters 'Anna Arivalayam' in Chennai. "All the members of the committee are asked to take part in it without fail", party General Secretary, K Anbhazhagan said.