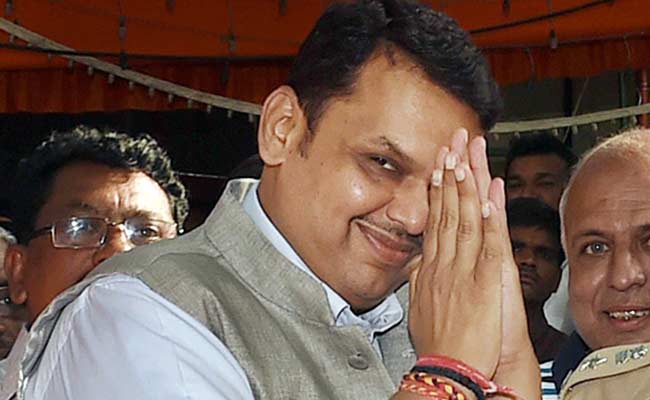 Devendra Fadnavis was sworn in as the BJP's first chief minister of Maharashtra at a grand ceremony on Friday evening at Mumbai's famous Wankhade stadium.
Here is your Fadnavis ready reckoner:
At 44, Devendra Fadnavis is the second youngest chief minister of Maharashtra. The youngest was Sharad Pawar; he was 38 when he took over as CM in 1978.

On his website, Devendra Fadnavis describes himself as "Chief Political Officer (CPO)." His opening words there - "Politics to me is an instrument to bring socio-economic change in the lives of people." At the time he was elected to lead the BJP legislature party on Tuesday, he had 950,139 followers on Facebook and nearly 40,000 followers on Twitter.

Devendra Fadnavis was the youngest corporator of the Nagpur Municipal Corporation at the age of 21. He was also Nagpur's youngest mayor at 27, which made him the second youngest mayor elected in India.

At 29, he won his first Assembly election in 1999. Devendra Fadnavis represents the Nagpur South West constituency. He took over as the chief of the BJP's Maharashtra unit in 2013

He holds a law degree from Law College, Nagpur, and has a post graduate diploma in Business Management and a diploma in Project Management from the DSE Foundation in Germany.

Devendra Fadnavis was born in a Brahmin family of social activists associated with the Rashtriya Swayamsevak Sangh or RSS. His father Gangadharrao Fadnavis was a BJP member of the state legislative council.

Mr Fadnavis joined the RSS in his childhood. He started his political career as a member of the BJP's student wing, the Akhil Bharatiya Vidyarthi Parishad.

He is a star in Nagpur. His analysis of the union budget in a public address is a keenly awaited event in the city. He has written five books, according to his website.

Unassuming, he has been known to often ride Mumbai's local trains and readily stands in queue to buy tickets. For many years he has called a spartan room in an MLA hostel his home in Mumbai.

He lives in west Nagpur's Raosaheb Fadnavis Park area. His wife Amruta is a banker. They have a daughter.