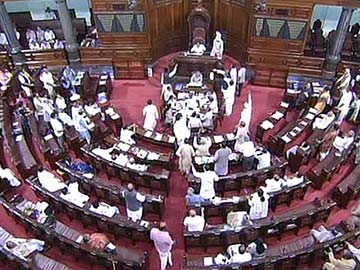 New Delhi:
Bihar lawmaker Pappu Yadav threw bits of paper today at the Lok Sabha Speaker during protests over a controversial Civil Services aptitude test conducted by the Union Public Service Commission or UPSC. Opposition parties were protesting against a panel report that has reportedly advised the government against making any changes to the test format that has brought hundreds of IAS aspirants to the streets.
Here is your 10-point cheat-sheet to the story:
Pappu Yadav, a Rashtriya Janata Dal MP, allegedly targeted the Speaker, Sumitra Mahajan, after she refused his demand for a reply from Home Minister Rajnath Singh on the exam row.

The Speaker rebuked the MP saying, "Throwing papers does not suit a parliamentarian. The entire nation is watching."

Home Minister Rajnath Singh reportedly met officials today to discuss the UPSC exam row and the student protests.

Sources say the government is considering the report of the Arvind Verma committee on the preliminary test format introduced in 2011. The panel was set up in 2012 after the Civil Services Aptitude Test was challenged in court.

A petition said the test should be scrapped as it leaves Hindi and regional language aspirants at a disadvantage.

Hundreds of civil service aspirants have been protesting on the streets of Delhi demanding that the exam scheduled on August 24 be postponed.

"Nobody is postponing the exams. Let us not confuse the students," Parliamentary Affairs Minister Venkaiah Naidu said today.

Student protests intensified last week after UPSC issued admit cards for the preliminary entrance exam. Students allege that the exam was to be held in September but was advanced to stymie their protest.

In response to multiple disruptions and protests by opposition parties in Parliament, the government assured in both houses that there would be "no discrimination based on language".

The Congress and other parties say since the new pattern was introduced, the number of non-English speaking candidates to make it to the civil services has dropped sharply.